TERESA WALTERS and a STEINWAY D
The Mirror, Atlanta, GA
By Rachel Petty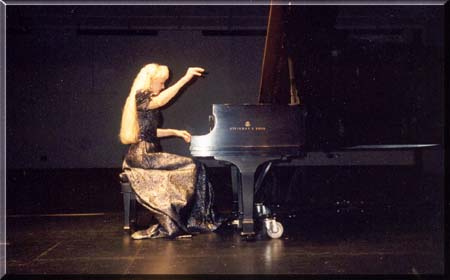 "The performance by internationally renowned pianist Teresa Walters at the Swails Center in Georgia was truly the highlight of the Cultural Awareness Program. The artist was most gracious to her audience, and a bond was quickly established. At many times during the evening, the listeners were in such rapt attention that one could have heard a pin drop. After more than one number the audience was so enthralled that no one wanted to break the spell she had cast. The elegance of her pianissimos and ppp's were absolutely incomparable. She received a spontaneous standing ovation at the close of her recital, a phenomenon that has not happened here before. The music goers will never forget this recital.

Her music is not of passing significance. It is not thoughtless music. Her music is stimulating to the intellect and pleasing to the emotions. According to Teresa Walters, "Music is a force that joins heaven and earth. Music is the soul's way of expressing beauty. The chords and overtones of the key of C are as exquisitely organized as the periodic table of the elements."

During the performance, she recites poetry and a moment later translates it with her fingers. Her head nods in affirmation of the notes and spirit of what she plays. The audience sees a long, willowy figure with waist-length blonde hair that sways as she plays. Now her fingers pound, now they flutter, but always they move more than the keys; they stir souls. Playing comes naturally to Teresa Walters, who began to play when only 4 years old. Fortunately, instructors have taught her how to play so that her playing compares with any male pianist's playing in centrality of power and force.

After the standing ovation greeted the concert's close, she offered the audience an encore (Hymn of the Navy). Backstage afterward, she remembers everyone's name and treats the fans as though there were no other people on earth, believing somehow that this is exactly where God wants her to be at the moment.

She is pleased to perform on our Steinway D, an instrument she uses 95% of the time, unless she is in some country where another piano is preferred because of humidity, such as the Yamaha in Asia. Thank you to the benefactors who sponsored her. Not only did Teresa Walters provide an unforgettable evening of cascading sounds, but we got our Steinway tuned."