Concert Pianist Keeps Liszt Close to Her Heart
By Corey Stulce
The Telegraph, Alton, IL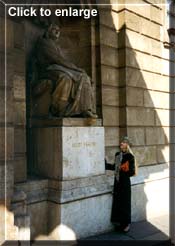 Teresa Walters is having a love affair with Franz Liszt.
Of course, that is literally impossible since Liszt has been deceased for more than 100 years, but in the figurative sense, prolific pianist Walters and Liszt have a truly harmonious and amorous relationship. "He's considered to be the greatest concert pianist who ever lived," Walters said. "It's difficult music. He wanted to show all the human hand is capable of doing and all the piano is capable of doing."
The famed pianist has played all over the world in such places as New York's Carnegie Hall, Wigmore Hall in London and the Great Hall of Moscow Conservatory.
One of the unique things about her latest performances are her Keynote Comments. Instead of just coming out and performing without saying a word, Walters likes to explain the origins of the music she is playing and what might have been happening in the composer's life at the time it was written.
"People are very appreciative," she said. "They tell me they get more out of the music; they find it more enriching. It also helps me enjoy the music more when I understand the context in which it was written. I think it's a win-win situation."
"I'm a romantic at heart," Walters said. "It's very expressive music and very passionate and emotional music. It reflects all the emotions of the human spirit."