Great Performance Marks Launch of $115 Million College Foundation
Jamaica Gleaner
April 24, 2008
By Michael Reckord

"Her performance was more than mere piano playing. It called on one to watch as well as listen to her. At the same time, such was her artistry that a sightless person would have found her music alone exquisite."

"The elegant Ballroom of Kingston's Jamaica Pegasus Hotel was the location for Sunday evening's concert by internationally-acclaimed pianist Teresa Walters, who performed a recital of music by Bach-Busoni, Rachmaninoff, Lili Boulanger and Franz Liszt. The President of Excelsior College is committed to the task of trying to spread the love of classical music to her institution and to Jamaica. Meeting that objective, she said, was one of the two reasons that the College sponsored the recital. The other reason, she said, was to launch the ECC Foundation.

The Foundation has a target sum of $115 million to be reached in five years. It is designed to help provide the College with additional physical and technological facilities, equipment and teaching materials and to boost its human resources.

Described as "one of the world's most significant pianists", Teresa Walters performed onstage before a capacity audience which filled the ballroom for her debut in this country. Before tackling the music of the four composers on Sunday evening, Dr. Walters introduced the composers and spoke about each chosen piece. This strategy was appreciated by even the more knowledgeable music lovers in the larger-than-expected audience, and would surely have served the less knowledgeable well.

Introducing her first item, Busoni's version of Bach's Chaconne in D minor, Walters said that Bach wrote about "the world's deepest thoughts and emotions". She proceeded to play the piece, with its poetic sections juxtaposed with its strong, dramatic climaxes, with a sense of showmanship clearly characteristic of her style.

As she played, her fingers undulating over the grand piano's keys, she often raised high both body and hands to emphasize a musical statement or to exert more force on the instrument.

In other words, her performance was more than mere piano playing; it called on one to watch as well as listen to her. At the same time, such was her artistry that a sightless person would have found her music alone exquisite. Her spirituality was clear, both in her playing and in her words to the audience.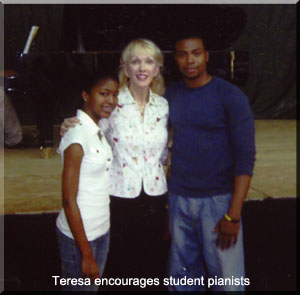 "This is my first visit to your beautiful island," she said as she waited for latecomers to be seated after the first piece. "I expected the magnificent sea, but your majestic mountains surprised me. You are truly blessed with a beautiful geography."

Dr. Walters said that Rachmaninoff, who was, like his music, "elegant and powerful," wrote 24 preludes. The two she chose to play that evening, Prelude in G Major, Op. 32, No. 5 and Prelude in G-sharp minor, Op. 32, No. 12 - were among her favorites.

Lili Boulanger, she said, was in Rome on a prestigious music prize when she wrote the pieces on the programme, D'un Vieux Jardin (An Ancient Garden), D'un Jardin Clair (A Sunny Garden), and Cortege (Procession). The composer died at 24, but the more than 50 works she composed revealed her genius.

In part two of the recital, Teresa Walters, an authority on Franz Liszt, played several pieces by that composer, mainly music based on three of Petrarch's sonnets and the Canticle of the Sun of St. Francis of Assisi. Before starting the prelude to the canticle, she quoted St. Francis's word of praise to God, ending: "Let all Creation praise and bless the Lord." The audience's applause was enthusiastic. After the concert, the artist spent a lengthy period signing autographs for the large audience. Tomorrow, she will give a Masterclass for selected area students at the Edna Manley College for Visual and Performing Arts."
Return to Critical Acclaim