A True Romantic at the Keyboard
Tri-City Voice for Silicon Valley - Fremont CA
October 31, 2007
By Eman Isadiar
"A musical giant…"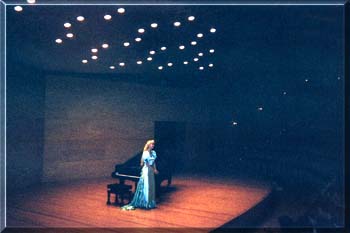 "New York pianist Teresa Walters was featured in recital at the Smith Center in Fremont on Saturday evening, October 13, with a program of Bach-Busoni, Rachmaninoff, Boulanger and Liszt. Presented as part of the Center's Season of the Arts, the recital drew an audience of subscribers and students. Remarks were given by the artist prior to each piece.
As the opening few bars of Busoni's arrangement of Bach's Chaconne in D minor flowed out of the Steinway, it became apparent that Walters has a special gift for producing a sweet, singing tone. With her affective cantabile articulation, Walters skillfully brought out some intricate inner voices hidden in the thick textures of Bach's counterpoint as arranged by Busoni.
Similar to Chopin's Preludes, those of Rachmaninoff are also twenty-four in number, one in each of the twelve major and minor keys. Of these, perhaps the most often played and best-known is the bombastic Prelude in C-sharp minor of Opus 3 composed by a young Rachmaninoff, while the two chosen by Walters personify a much more poetic and lyrical Rachmaninoff as a mature composer.
These were the G major and G-sharp minor Preludes of Opus 32, which Walters played with a remarkable expressive quality and precision.
The three delightful short pieces titled Trois Morceaux Pour Piano by Lili Boulanger were perhaps the highlight of the program. While the life of this gifted musician who died tragically young remains wrapped in mystery, the three pieces played by Walters were true examples of French impressionism as evidenced by the emblematic parallel fifths and sevenths. Despite her premature death, Lili Boulanger did receive some recognition during her life as a winner of the celebrated Prix de Rome award for composition - an honor which was also bestowed upon her illustrious forebear Claude Debussy with his choral work L'Enfant prodigue.
The second half of the program was devoted entirely to Liszt with the three Sonnets of Petrarch from Annees de Pelerinage, the Prelude to the Canticle of the Sun of St. Francis, and the Canticle of the Sun of St. Francis. It is clear that Ms. Walters has committed much of her career to performing Liszt's music, particularly the composer's later and religiously-inspired works, which she plays with ease and clarity. This also explains the performer's notable singing tone, which is perfectly adapted to this repertoire. Walters played the delicate runs and flurries of Liszt's music with grace and facility. The pianissimo passages were crystal clear and bell-like.
With her graceful presence and romantic touch, Teresa Walters will be remembered fondly in Fremont. It is no easy task to fill Fremont's Smith Center unless you are a musical giant."
Return to Critical Acclaim