Teresa Walters Captivates Her Audience
Chiangmai Mail, THAILAND
March 26, 2007
By Jan Verwers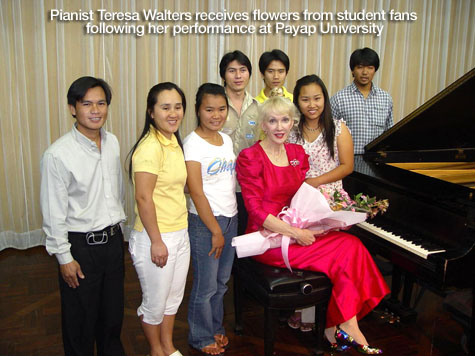 "American piano virtuoso Teresa Walters captivated her Thailand audience with inspired interpretations of the classics in a piano recital at Payap University earlier this month. The "Cascades of Luminescence" which the Washington Post reported earlier, were clearly audible in her performance. She played three short pieces for piano, written around 1900 by Lili Boulanger. This French composer, who unfortunately died at the young age of 24, was the first female musician to be given the prestigious Prix de Rome. Her music, filled with tranquility and sadness, got a beautiful interpretation by Teresa.

She then followed with George Gershwin's "Rhapsody in Blue" which was remarkable. This monument for later American music is sometimes seen as a first link between Jazz and what was traditionally called Classical Music.

Walters is a renowned Liszt specialist, and the remainder of this recital was dedicated to Franz (Ferencz) Liszt. Liszt was born in Hungary in 1811, the year of the Great Comet. He started his career as a pianist in Vienna, and his fabulous performances extended to almost every country in Europe. He became a musical idol, even in the rather conservative salons in Paris.

Equally important was his career as a composer. He wrote over 400 original compositions and about 900 'transcriptions' for piano. This evening, Walters performed his 'Sonnets' inspired by Petrarca and a melodious 'Romance.' Liszt retired to Rome in 1861, and joined the Franciscan order in 1865. From 1869 onwards, Abbé Liszt wrote mainly religious music. Of this part of his oeuvre, Teresa Walters chose six German Chorales, completing the evening with an impressive rendition of the Canticle of the Sun of St. Francis of Assisi.

Teresa Walters likes to give her public relevant information about the different parts of her program. She developed her Keynote Comments several years ago in response to the need to more fully share her music. An attentive audience clearly appreciated this."
Return to Critical Acclaim