Variety of Compositions at Concert Association
The Examiner, Peterborough, Ontario, CANADA
March 26, 2006
By Timothy McGee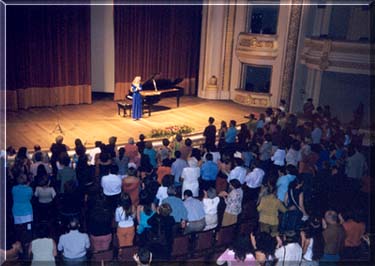 "Pianist Teresa Walters was presented on Friday evening as the third concert in the 2005-06 Peterborough Concert Association series. Her program consisted of a variety of compositions written by French, German, Hungarian, Russian, and American composers, all within the period 1850-1925. Walters makes a very striking appearance: tall, slim, poised, with very long blonde hair. She put the audience at ease with her pleasant and eloquent spoken introductions to each of the numbers on the program."
"The opening works set the tone for the recital: three pieces by Lili Boulanger, written in the early years of the 20th century shortly before her death at age 24. An Old Garden, A Sunny Garden, and Procession, all were very impressionistic much like early Debussy, with shimmering, languid and lyrical melodic images. The mystic, almost spiritual tone of the performance carried through with the next two works by Franc Liszt, the first, a reflection on Petrarch's Sonnet 123, and the second a Benediction which has recently been found among his sketches. Both works were psalm-like meditations with rhapsodic variations. Although Brahms's Intermezzo, Op. 118, No. 2 is not known to have been intended as a spiritual meditation, Walters's interpretation of it tended in that direction, as she did with the last two numbers on the program, Gershwin's solo piano arrangement of Rhapsody in Blue, and arrangements of all three movements of Rachmaninov's Second Piano Concerto. An enthusiastic standing ovation was rewarded with a setting of the spiritual, Deep River."
Return to Critical Acclaim