Shining Performance
Salisbury Post
April 24, 2011
By Karl Kinard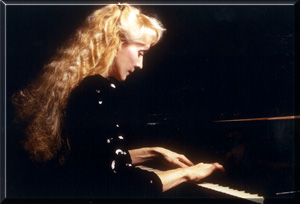 "The consistently inspired programming and conducting of Maestro David Hagy and the sterling performance of the Salisbury Symphony Orchestra were certainly evident at the April concert entitled "Fantasy," a program of compositions by Franz Liszt, Ralph Vaughan Williams and Aaron Copland. The first half of the program was devoted to the music of Franz Liszt.

World- renowned pianist Teresa Walters has performed in all 50 states and is widely acclaimed throughout the world. At Saturday's performance, she dazzled with her transcendent expressiveness as she combined shimmering dexterity in the upper registers with an unexpected power and command of the entire keyboard.

Liszt was notorious for his devilishly difficult keyboard compositions, and Walters was a capable master of whatever was required of her. Her glitteringly clean octaves brought added drama to the performance, and the audience gave her a well-deserved standing ovation and several "Bravos."