"Symphony Features Virtuoso Teresa Walters and The Language of the Keys"
Herald Times, WI
By Suzanne Weiss
"Whether she is in Paris, Moscow or Jerusalem, pianist Teresa Walters always speaks the language. The international language of music, that is. "One of the miracles of music is that it speaks to the human heart," said Walters in a telephone interview from her home near New York City. "It's the common bond, so even though I can't always speak the language of the people, I can communicate through the music of the great composers."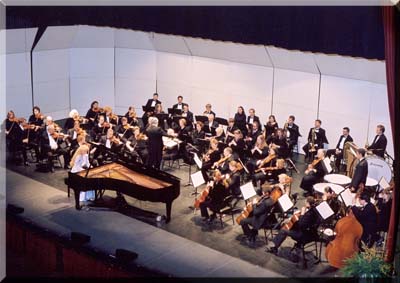 Walters will be guest artist for the Symphony Orchestra's concert, "The Language of the Keys," beginning at 8 pm April 24th at the Capitol Civic Centre. Since September 11, she has felt akin to an unofficial musical ambassador for the United States. "I feel more of a responsibility as an artist to promote a better understanding between our country and the countries of the world," she said. "I think that the world's great music is one of the common bonds shared by all countries and it is one way to keep channels of communication open. As we make music together, it is always such a great blessing that it transcends any given point in history."

"Teresa Walters has quite literally played all over the world; she has award-winning recordings, so we're just incredibly fortunate that it could be arranged for her to come to share her talents with us," said Maestro Wayne Wildman, director of the orchestra in a phone interview.

In preparation for performing, Walters does keyboard exercises to strengthen her hands as well as stretches to keep her fingers limber. "Playing the piano is actually more athletic than many people realize," Walters said. Many of the technically challenging pieces she plays often are considered a man's domain. The Franz Liszt piece, "Fantasy on Hungarian Folk Melodies," which she will play here has "heavy octaves and big chords, so I have to use all of my body weight, whereas a man could use his shoulders and arms," Walters said. "It is a magnificent piece. It is part of Liszt's nationalistic legacy. It is actually based on a Hungarian hymn. In addition to that majestic melody, there are sections of the piece that have almost gypsy folk melodies, so some of the harmonies are more exotic."

"The center of our program is this piano solo, and quite a solo it's going to be, too," Maestro Wildman said. "Liszt was certainly the greatest pianist of his time and from a technical standpoint he did many things on the piano that had never even been attempted before, technical things - fast-moving passage work, repeated notes, all of the really flashy things that we associate with a virtuoso pianist. He is the person who invented them. This of course is music that the audience loves. It is filled with soaring melodies that everyone will recognize. Listening to this music really is an emotional journey."