SYMPHONIC CONCERT EXTRAORDINAIRE
Stagiunea
Bucharest, Romania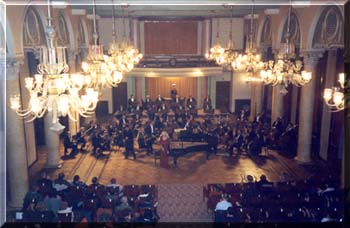 "An extraordinary concert was presented on November 7 at the Concert Hall of the Military Circle by the Romanian Philharmonic Brasov conducted by Maestro Christian Neagu and featuring as soloist the American pianist Teresa Walters. The concert, part of the Philharmonic's celebratory 125th Anniversary Season, included the Overture "Hebrides" by Felix Mendelssohn, Ludwig van Beethoven's Concerto No. 5 - "Emperor", and Mendelssohn's Symphony No. 3 - "Scottish".

The gala 7:30 pm concert was preceded by a 10 am rehearsal-performance open to the general public. Because of the limited seating for only 3,000 persons in the Concert Hall, the additional performance was deemed necessary to accommodate the large number of people intent upon hearing the celebrated American pianist, performing her debut in Romania. For both morning and evening performances, even the balconies were opened as the public filled the hall to capacity.

Pianist Teresa Walters received her Doctorate at Peabody Conservatory in the USA. Distinguished as one of the world's premiere pianists, she benefited in early years from tutelage of the celebrated Nadia Boulanger in Paris, who described Walters as "blessed with abundant rare musical gifts."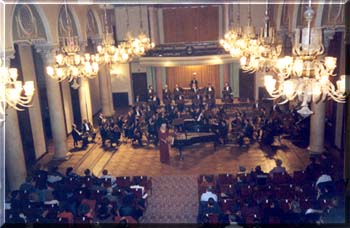 Mme. Walters has earned enviable accolades with performances in the world's finest concert halls, including Carnegie Hall and Lincoln Center in New York, Wigmore Hall in London, the Salle Cortot in Paris, and the Great Hall of Moscow. The Jerusalem Post has judged her playing as "Marvelous! As close to perfect as I hope to hear." The New York Times announced: "Not a note was smudged in the pages of intricate passagework, and her conception had all the requisite sweep, power, and warm sonority." In recent years, she has been recognized as one of the world's finest interpreters of the music of Franz Liszt, with her CD recordings winning nominations for the Grand Prix du Disque.

Beethoven's Fifth Piano Concerto is well-known and frequently performed here, representing a masterwork in the repertoire of many fine pianists. Yet the audiences who heard this interpretation by Teresa Walters responded as though hearing it for the first time. Waves of spontaneous rhythmic clapping broke after the last note and the artist was called back onstage with the honor applause time and again. An undeniable magnetism is present in this pianist. There is a spiritual transcendance to her playing, as witnessed in the second movement which was perfect poetry in her hands. In the words of the most seasoned and esteemed performers in the orchestra, this performance of Beethoven's "Emperor" was the finest musical experience in modern memory."