The Jackson Symphony Orchestra with Teresa Walters
The Jackson Sun - WEEKEND PLUS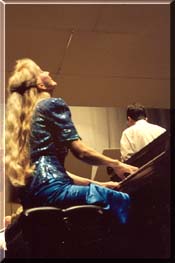 "The Jackson Symphony Orchestra, with Maestro Jordan Tang conducting and pianist Teresa Walters as guest artist presented its first concert of the season to a full house at the Carl Perkins Civic Center on Saturday. Following Rossini's Overture to William Tell, featured piano soloist Teresa Walters walked onstage in a stunning crimson gown to perform Franz Liszt's Hungarian Fantasia. Walters, an internationally acclaimed pianist widely considered to be one of the world's most uniquely gifted virtuoso pianists, has performed as recitalist and orchestral soloist on six continents and in most of the 50 United States. She is the first American pianist invited by Hungary to present the Anniversary concert in honor of Liszt's birthday. Prestigious invitations to perform at the Liszt Academy of Music in Budapest, Liszt's Birthplace and at Esterhazy Palace under the patronage of Prince Anton Esterhazy attest to her growing reputation as one of the finest pianists performing and recording today.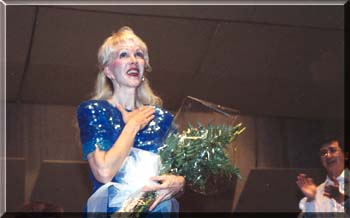 Following a terrific and dramatic performance of the Liszt, Music Director Jordan Tang briefly spoke to the audience about the next piece on the program, George Gershwin's popular Rhapsody in Blue. The pianist returned to the stage wearing a dazzling blue gown, and greeted by cheers and smiles from a delighted audience and orchestra. Walters then offered the audience a performance that presented Gershwin at his finest, bringing the audience to their feet in a cheering standing ovation.

Teresa Walters' performance with the Jackson Symphony was absolutely outstanding. An equally satisfying part of her Artist Residency in the community was the incredible Master Class Dr. Walters presented sponsored by the Jackson Symphony in Jennings Hall at Union University on September 29. Four area students were selected to perform for the class with other students and teachers invited to observe as Dr. Walters offered suggestions and techniques to improve performance. With the young pianists, Walters was incredibly encouraging and gentle while giving wonderful musical insight. The musicians in the audience were fascinated with the knowledge and musicianship behind each of her comments."