Teresa Walters' award-winning recordings include informative program notes. Both volumes in the Abbé Liszt series have been nominated for the Grand Prix du Disque of the Hungarian Liszt Society. Reviews of her recordings and CD repertoire may be found throughout the Critical Acclaim and Feature Article sections of this website.
Teresa Walters performs extensively throughout the United States and around the world. She has appeared at Carnegie Recital Hall, Lincoln Center, Wigmore Hall in London, the Great Hall of Moscow Conservatory, the Palais des Beaux-Arts in Brussels, the Salle Cortot in Paris, and the Geneva Conservatoire. She has also performed at the Concert Hall of the Jerusalem YMCA, the Beethoven Festival in Vienna, and Spanish Music Festivals in Barcelona and Madrid. She performs on television and radio in the U.S., Spain, Italy, and the former Soviet Union. Her solo recitals as well as her appearances as soloist with orchestras earn the highest accolades of the National and International Press and the enthusiasm of audiences worldwide.
New CD Release: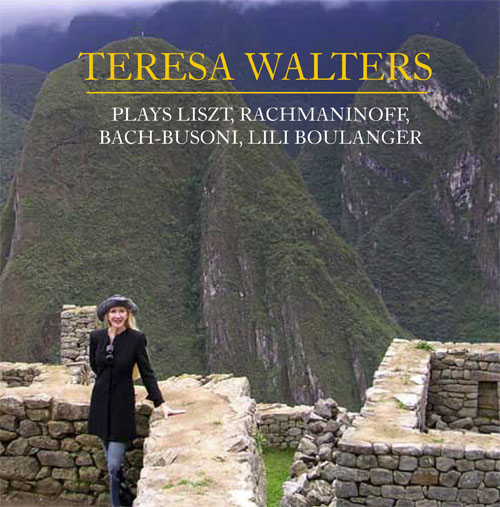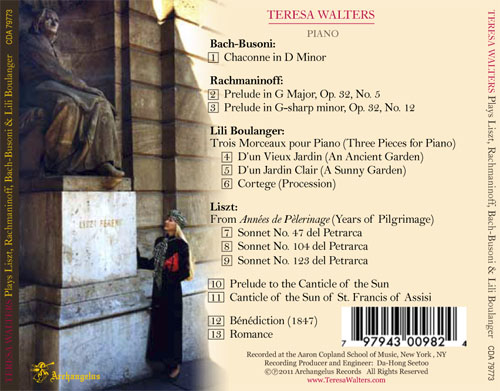 Click to Order!
---
New CD Release:
Teresa Walters's Special Bicentennial Release A Liszt Celebration now nominated for the Grand Prix du Disque: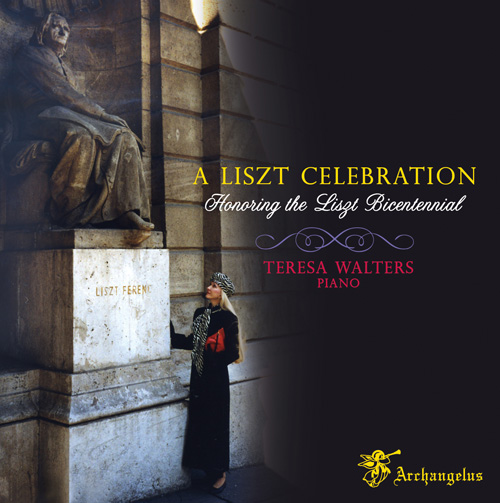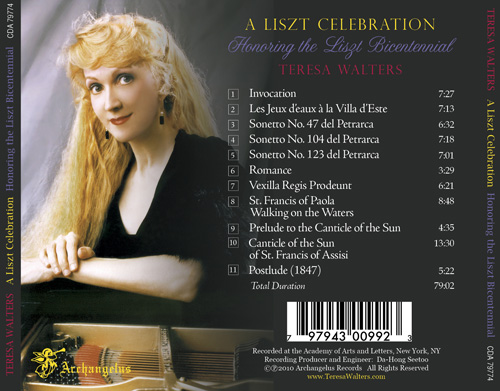 Click to Order!
---
Five Stars: Her Best Work
CD Review: A Music Fan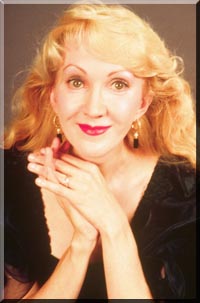 "I have heard the Sonata in b minor from other very famous artists and thought that they were good until I heard this version. This sonata is supposed to be about good versus evil. There are some very harsh moments along with very sweet legatos and vibrant allegros. This is where her interpretation of Liszt is superb. Other top-notch pianists are more cautious - especially when portraying the evil side. Teresa Walters lets it all loose and puts a tremendous amount of emotion into it. No doubt this is the reason she is considered to be such an expert in the music of Liszt."
"Discoveries"
Toronto, Canada: The Whole Note, David Olds, Editor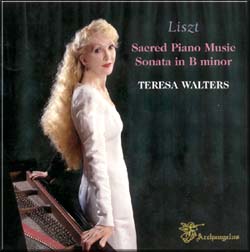 Click to Order!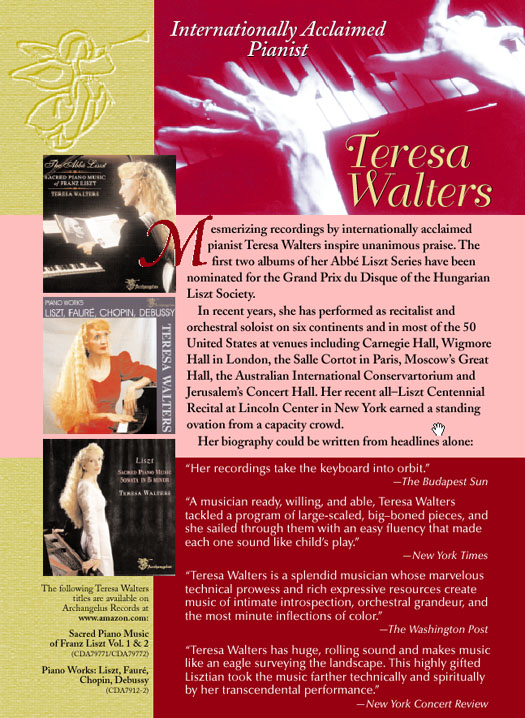 For you convenience, Teresa Walters' recordings can be ordered
directly from www.amazon.com