Teresa Walters in Canada
The Review, Niagara Falls, Canada
American pianist Teresa Walters performs in Niagara Falls in the first appearance of a tour that will take her through Ontario. We are indeed privileged to hear the internationally acclaimed pianist in our own home town. She will present an all Liszt performance for which she is famous, on a piano once played by Glenn Gould.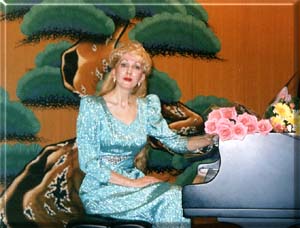 Teresa Walters' Lincoln Center Liszt recital featured the composer's Sonata in B minor as well as selections from Harmonies Poétiques et Réligieuses, Three Hymns, an Ave Maria and Alleluia, all of which she has recently recorded for Archangelus Records. Describing the virtuosity of her Liszt Sonata, the New York Times wrote: "There was much to admire: The crashing octave runs were all right on the mark. Not a note was smudged in the pages of intricate passagework and her general conception had all the requisite sweep, power, and warm sonority." New York Concert Review reported: "This transcendental performance magically transformed the keyboard. She has a huge, rolling sound and makes music like an eagle surveying the landscape."
"A splendid musician whose marvelous technical prowess and rich expressive resources create music of intimate introspection, orchestral grandeur, and the most minute inflections of color" (The Washington Post). Teresa Walters holds a Doctorate from Peabody Conservatory. Awarded an International Graduate Fellowship for a year of study in Paris, she interviewed Nadia Boulanger, the subject of her dissertation.
Walters is a Steinway Artist and is recording a series of releases for Archangelus Records featuring the sacred piano works of Liszt. The first two albums in The Abbé Liszt series have been nominated for the Grand Prix du Disque of the Hungarian Liszt Society. Her third album has just been released.