Teresa's Piano Technique and Female Pianists
Audiences and critics marvel at Teresa Walters' phenomenal piano technique. She approaches perfection performing the most physically and technically demanding works in the piano repertoire and this she does with apparent facility and powerful stamina. The Tchaikovsky B-flat minor Concerto, the Liszt b-minor Sonata, Moussorgsky's Pictures at an Exhibition, Beethoven's Emperor Concerto, the Bach-Busoni Chaconne in d minor, music of the Spanish piano school and many of the Transcendental Etudes of Liszt have been performed by Teresa Walters with great success throughout the world.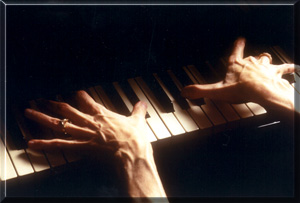 Praising her "unusual technical prowess," and "astonishing ability", one critic wrote: "in a two hour program that would fatigue the most seasoned performers, she showed incredible stamina. Almost always the pianist sat erect before the open Steinway infrequently looking at the keys, even in very fast, complicated passages".
The critic of The New York Times wrote: "Miss Walters tackled a program of large-scaled, big-boned pieces, and she sailed through them with an easy fluency that made each one sound like child's play." The Times critic praised Teresa's performance of the Liszt Sonata (considered by many to be a most demanding work in the pianistic repertoire): "There was much to admire. The crashing octave runs were all right on the mark. Not a note was smudged in the pages of intricate passagework, and her general conception had all the requisite energetic sweep, power and warm sonority."
Following Teresa's Wigmore Hall recital, The London Times lauded her "strength and agility," adding, "Teresa Walters spared herself nothing in an enormous programme that included the Bartók and Liszt Sonatas, as well as the Sonata, Op. 78 of Beethoven."
When Teresa Walters walks onstage, she exudes a fragility that is deceiving. Though 5'9" tall, she weighs only 120 pounds. But her hands are large, with long slender fingers that effortlessly grasp a tenth at the keyboard. When she begins to play, as Jules Gentil of the Paris Conservatoire has written: "She is able to play the biggest pieces in the repertoire with the power and stamina of a man. She is a very gifted pianist. Her technique is highly developed, and she is trés musicienne."
Teresa Walters admits that a female pianist faces some special challenges. She observes: "A female pianist does not have the arm and shoulder weight that a man's body possesses. To achieve a rich, powerful sound that fills a large hall, she must utilize more of her body weight - sometimes from hips and torso - in order to produce a ringing tone that is as full as possible without being harsh." When Teresa feels a particular chord demands her maximum strength, she stands momentarily above the keys to achieve the necessary volume. Teresa credits her teachers with helping her to develop the level of technique that makes the entire gamut of the repertoire accessible to her.