World-renowned Pianist Comes to New England
By Deanna Lee Chaparro
Record-Journal
June 10, 1999
Teresa Walters is an internationally known pianist who has been invited to tour Japan and perform the music of Hungarian composer Franz Liszt. She will perform a preview of her Japanese tour in New England. Liszt, her favorite composer, wrote all of the music.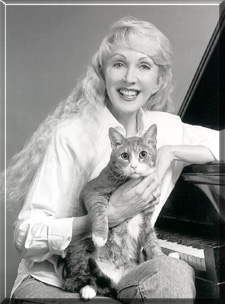 "I respect the fact that he continued to grow as a musician," Walters said. She says that much of his music allows for acrobatics on the piano and that in his time Liszt had an appeal similar to that of a pop star.
Walters was not always a fan of Liszt. "I thought he fit the stereotype of the bombastic showman," she said. But her professor at the time encouraged her to listen more closely to the music, and her attitude changed.
"It's all very worthy music," she said. "It speaks to all ages, to all generations, and to all nationalities." She is interested in seeing how Japanese audiences will react to her program as many of Liszt's works were based on Roman Catholicism which is very different from Buddhism.
Her career has allowed her to travel to places far from the small farming town she grew up in. She has performed in Australia, Hungary, Paris, Spain, London, and Jerusalem.
Walters enjoys explaining the stories behind the pieces before playing them for the audience. Although she only knows a couple of phrases in Japanese, she will present her knowledge to the audience through an interpreter.
In her spare time, Walters is an animal lover who enjoys bird watching. She has a canary and a Japanese Bobtail cat.