Teresa Walters takes an active interest in the music of the Church. As in Renaissance and Baroque times, when the great artists of the day (Palestrina, Buxtehude, Bach and others) worked actively in the Church, she believes that the Church deserves the finest musicians and the highest quality of music that any historical era has to offer.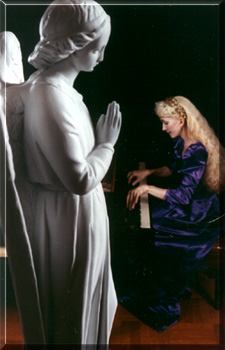 She states: "I further believe that our Churches and Synagogues should be centers where people of all ages and backgrounds develop a greater appreciation for music."
"The great French organists, such as César Franck, Gabriel Fauré, and Olivier Messiaen, to name a few, have established a tradition which exemplifies the fruitful association possible when performing artists work in a religious environment. The Church, by providing an oasis for the artist's expression reaps the benefits of the high-quality music it deserves."
With so many financial challenges confronting the development of the arts in America today, Teresa believes that our Churches and Synagogues offer a potential source of support for the arts which has not yet been fully realized. She would like to see more Churches (many of which offer fine acoustics, ample seating capacity, and possess the necessary funds) establish performing arts series. "This would be beneficial to all involved. The Churches would constitute a needed source of financial support for performing musicians, and the musicians would fill a great contemporary need by contributing their talents to religious institutions.
"Since the time of the Psalmist David, it has been a musician's great joy and privilege (as well as responsibility) to offer musical talent as a means to praise, thank and worship God. By serving in this way, we find fulfillment for ourselves in enriching the lives of others, and we glorify God as the creator of "every good and perfect Gift," believes Teresa.