MacDowell Club Sponsors
Teresa Walters Return
The Citizen
Denville, New Jersey
As a result of the tremendous audience response to last year's spectacular performance by pianist TERESA WALTERS the MacDowell Club has scheduled her return for their 75th Anniversary.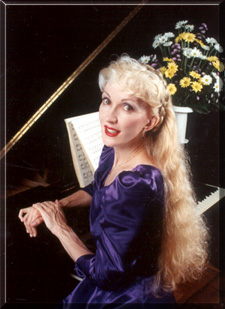 The concert will be at Community Church followed by a gala reception. Walters is a brilliant and inspired pianist, whose rare beauty, talent, and ability inspired The New York Times to report: "A musician ready, willing, and able, Walters tackled a program of large-scaled, big-boned pieces, and she sailed through them with an easy fluency that made each one sound like child's play." The London Times wrote: "Strength and Agility (headline): Teresa Walters spared herself nothing in an enormous program." Her dazzling performances in recital, as soloist with orchestra, on television and radio in the U.S., Canada, Italy, Austria, Spain, France, Switzerland, Belgium, the United Kingdom, and the former Soviet Union have received the highest accolades. Walters is noted for combining a scholarly and intellectual approach with deep, emotional involvement in each work that she plays. The result is music that comes fully to life in the tradition of some of history's greatest pianists.
Born in a small farming community in the Midwest, Teresa exhibited a natural inclination to music at an early age. At four, she could reproduce sounds and stories after a single hearing, and began practicing her instrument with fervor. While earning her Doctorate at Peabody Conservatory, she won an international fellowship to research the famed music pedagogue, Nadia Boulanger, subject of her doctoral dissertation. Successes and accolades follow Teresa Walters as she appears in recitals and concerts here and in Europe.