Concert Pianist Loves Her Life
By Cal Turner
The Patriot News
Harrisburg, PA
Chopin should be sitting here, you say, and you could watch her bowl the handsome devil over. His black string tie and silken cuffs would flutter, and he'd shout "Bravo! Bravo!" That's a fantasy, of course. The only Chopin in the elegant, soft-hued living room is on the keyboard of the concert Steinway.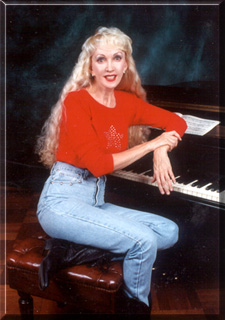 The large, jungle-green potted plants seem to stir, while the big Pissarro and Renoir prints in the background lend another delicate degree of luminosity. TERESA WALTERS, a consummate concert pianist, is at work on a Chopin etude. The notes ring clearly, then dance, then depart. As The New York Times once put it: "Walters tackled a program of large scaled, big-boned pieces, and she sailed through them with an easy fluency that made each one sound like child's play." Ah, you think, and she used to be a Nebraska farm girl, and you ask her, "Did you ever milk a cow?" "No" , she answered, laughing softly. "I have two brothers, so I was exempt from that." Nebraska born and bred, home of Big Red football, Willa Cather country, deep snow and hot summers. In her present home in the metropolitan area, that world seems far away. There is a church across the lawn, and her husband mans the pulpit. But Teresa Walters is no stereotype of a minister's wife. Potential disputes over hymnals, church socials, and auxiliary functions do not unsettle her. "My life is music," she says quietly, "and that enriches my life in the church and at home."
For a woman who has concertized in the great cities of the world - New York, Moscow, Paris, Vienna, Barcelona, Sydney, Jerusalem - Walters said that as far as she knows there was no concert pianist or professional musician in the family background. Her international career is now under the management of a prestigious New York firm. "I travel abroad for concerts several times during the year," she said, dipping into life on the road, or rather in the air. "I love the travel." Meeting and greeting audiences across the world has not, she said, diminished her warmth and regard for those close to the land, and anchored in the heavy work-a-day world. "When I'm at home, I practice eight hours a day," she said. "And I don't consider that unusual. It is my work, and most people work an equivalent number of hours at their jobs. But the people I meet are part of the joy of my music. Hosts always meet me and look after me until I get back on the next plane. And yes, I enjoy performing for sophisticated audiences. But I also love performing in communities who do not often have the opportunity to experience a concert pianist." Before I left, Walters introduced me to the year-old addition to the home - a parrot whose name is Winston. And would you believe it? He is learning to shout "bravo" at the completion of a Teresa Walters practice run on the mammoth Steinway.