Pianist Brings Liszt to Life
By Debra Scacciaferro
The New Jersey Daily Record
Pianist Teresa Walters stepped into a gilded, grand salon in Zurich to perform for the Liszt Society of Switzerland in April. She descended an elegant staircase and threaded her way carefully through the packed salon. Patrons sat shoulder-to-shoulder, waiting to hear Walters' specialty - the spiritual compositions of the 19th century Hungarian composer Franz Liszt. Inspired by the composer's deep Catholic faith, these works were largely ignored by musicians more attuned to Liszt's huge inventory of flamboyant secular compositions.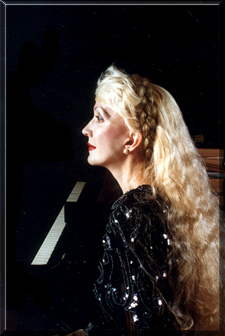 But they have become a passion for Walters. Her newest CD, "The Abbé Liszt, Sacred Piano Music, Sonata in B Minor, Volume 2," is due out this fall on Archangelus Records. The Zurich concert was a rare opportunity for a concert pianist used to playing in large concert halls. "Exactly the intimate setting in which 19th century pianists like Liszt performed," she said. What particularly pleased her was the review, which declared that Walters had invoked the very presence of Liszt in that intimate setting.
Not bad praise for the daughter of Nebraska farmers, whose musical odyssey has taken her from the cornfields and church choirs of her youth to the greatest concert halls of the world. The first thing you notice about Walters is her striking looks - she is tall, with flowing blond hair that hangs down to a willowy waist. Despite the fact that she lives halfway across the U.S., Walters' mother still sews all her concert gowns, gorgeous lace and velvet and beaded creations, including a dramatic black and white "mirror image" dress, which garnered attention in several reviews.
Her size and strength, especially her large hands, with her long fingers, gives her an advantage over most concert pianists. Liszt's compositions require a wide finger span and great stamina. "I once put my hands on top of a cast of Liszt's hands. And we're close. Very close."
In many ways, Walters felt she was fated to play Liszt's spiritual works. His sacred works, which came much later in his career, were an enigma to most concert musicians, who found them too showy for church, but too religious for a secular concert series. "I have gained a reverence and understanding of how religion played such a part in his spiritual works," she said. "I feel as if I'm being led. That I'm taking a journey, and it's out of my hands."
That decision to mine the largely unexplored and extensive canon of Liszt's spiritual music has propelled Walters through doors she never dreamed of. She's performed these spiritual works to glowing reviews in the U.S., Europe, and Australia. The Japanese audiences connected with the music, especially "The Hymn of Night," which they associated with their own popular Moon Rising celebrations. "I find that this music is well-received in every country. I think it has a universal appeal. My dream is to perform it in every country in the world within my lifetime."
In October, Walters will play Liszt the ultimate tribute, playing the annual Liszt birthday concert at the Liszt Academy of Music in Budapest, where she performed in March. On October 21, she performs an 11 a.m. matinee, then travels to the church in Liszt's birthplace in Raiding, Austria for a 7 p.m. concert. On Liszt's birthday, on October 22, she'll perform in the ornate Empire Saal in the Esterházy Palace in Eisenstadt, Austria.
"Liszt had generosity of artistic temperament," she said. "That's something I strive for now, in everything I do."