Teresa Walters Brings the Fiery Musical Force of Liszt
By Silvia Ruano
El Norte, Monterey, Mexico
American concert pianist Teresa Walters brings her musical gifts to Monterrey's Theatre de la Ciudad Town Hall this week. This concert will be the Mexico debut of the world-renowned pianist whose distinguished international career has established her as a leading interpreter of the music of Franz Liszt.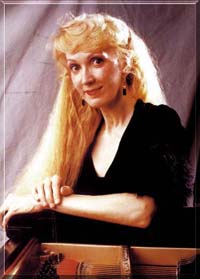 Titled "Liszt and Literature", her concert will include selections from Harmonies Poétiques et Réligieuse, Sonnets of Petrarca, Romance, and Canticle of the Sun, among other pieces.
"The music is beautiful, and represents some of Liszt's finest repertoire. Some of the music is rare and little-known and existed for years only in Liszt's notebooks," explained Walters in a phone interview from New York. "It will be a very special concert, because the beauty of the music speaks for itself, and because the program contains a good sampling of everything Liszt created," she assured with the experience acquired from performing at Lincoln Center and Carnegie Hall in New York, in Wigmore Hall (London), Salle Cortot (Paris), The Great Hall (Moscow), Australia, Japan, and Israel.
She noted that Liszt is the finest pianist of all times, not only for the technical difficulties and beauty of his compositions, but also for the incredible persona he exhibited on stage and in person. "He was the equivalent of a rock star today. People fought just to touch him, to keep pieces of his clothing, or a lock of his hair." Walters added that many of Liszt's musical concepts influenced the music of the 20th century: "He was a great innovator who experimented with his music and illuminated the path for music long after his own time."
Teresa Walters, who recently had the opportunity to perform a European tour commemorating Liszt's birthday, loves not only the music of Liszt, but the piano itself. "I believe that the piano has the ability to communicate to the heart, soul, and mind, and to bring to life all the positive emotions of the human spirit. When the piano is played well, it is like an orchestra played by only one person," she said. "Liszt's music maximizes the capabilities of the instrument."
When asked what she would like to say to the people of Mexico, the pianist replied: "We live in a complex world and sometimes circumstances work to divide countries. Music is a universal language and has a message for the whole world. I love what I do and I consider it a great privilege to share this music throughout the world." The pianist expressed that she is looking forward to meeting the people of Monterrey and to sharing her music with them in such a way that for at least one moment in time, all differences can be erased.