Teresa Walters: The Brush of Angel's Wings
The Wartburg Trumpet
By Shannon Pearson, Staff Writer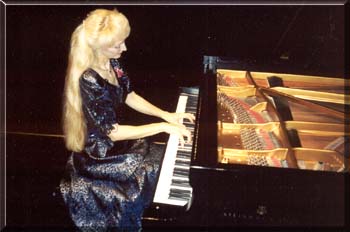 "While speaking with pianist Teresa Walters, the next performer in the Great Artist Series, one can immediately sense how much she loves her career. "`Playing the piano' is an appropriate term," Walters said. "It really is play. It doesn't feel like work."

But for every second she performs, Walters has spent countless hours perfecting each phrase of the music she plays. She will present a program devoted to the music of Franz Liszt, a Romantic composer known for his challenging and dramatic piano music. Walters says that for her, Liszt's music is a passionate display of poetry from the soul. "I am still exploring the richness of his music," she said. "To me, his music has everything. It is beautifully designed for his hands."

Walters says that the journey of performing all over the world is the most fulfilling aspect of her career. Her music has taken her from a Nebraska farm, where she spontaneously played a song from the radio on her grandmother's piano at the age of four, to Peabody Conservatory in Baltimore to earn a doctorate, to touring Europe as the first American to play in recitals honoring Liszt's birthday.

In her travels, Walters encounters "signs" and coincidences which convince her that playing the piano is her calling. "It is like the brush of angels' wings telling me that I am on the right path," she said.

At a museum in Budapest, Hungary, a cast of Liszt's hand was compared to hers. The resemblance was so remarkable that museum officials took a photograph of her hand next to Liszt's. "It looked like I could be one of his offspring," she said.

Another sign appeared at Wartburg. Walters' concert at Wartburg will include Liszt's "Canticle of the Sun," based on a poem by St. Francis of Assisi, the composer's patron saint. When Walters learned that Wartburg is home to the dancing St. Francis sculpture, she expressed great fascination, explaining that one of her goals is to make this piece, which she calls Liszt's "musical last will and testament" better known to the world.

"The Canticle of the Sun is a piece about what all peoples of the world have in common," she said. The poem, which Liszt wrote into the original score, praises God's gifts to the world, like the sun, moon, and stars, fire, and water. Walters will perform Saturday at 8 pm in Neumann Auditorium. She will also teach a Master Class at 2:30 Sunday in the Fine Arts Center Orchestra Hall.