American Pianist Presented in International Music Festival
Association Melodica
Ragusa, SICILY
March 2008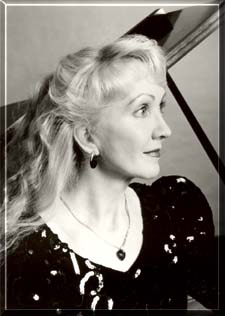 "The Melodica Association presents the critically-acclaimed American pianist Teresa Walters in the Auditorium Camera di Commercio on Sunday evening, March 2 at 8:30 PM. The concert, which is jointly sponsored by the Cultural Associations of Regional Province of Ragusa, is part of Sicily's 15th International Piano Festival.

Teresa Walters performs extensively throughout the United States and around the world. In great demand as a recitalist and as a guest soloist with orchestras, her tours in recent and coming seasons encompass six continents.

Her mesmerizing performances on today's international concert stages inspire unanimous praise. Her biography could be written from headlines alone: "Teresa Walters Plays Piano on Grand Scale" (The Cincinnati Enquirer); "Her Hands Create Cascades of Luminescence" (The Washington Post); "Teresa Walters Holds Keys to Audience's Hearts" (The Record).

Her recent all-Liszt performance at Lincoln Center in New York received a standing ovation from a capacity crowd. The New York Times wrote: "A musician ready, willing and able, Teresa Walters tackled a program of large-scaled, big-boned pieces, and she sailed through them with an easy fluency that made each one sound like child's play." The New York Concert Review confirmed: "Teresa Walters has a huge, rolling sound and makes music like an eagle surveying the landscape."

Awarded a Doctorate in Music from Peabody Conservatory of Music of Johns Hopkins University, Teresa Walters has been awarded grants from several prestigious foundations. She has been named to the International Who's Who of Musicians and the World Who's Who of Women. She is an official International Steinway Artist.

Teresa Walters's featured program for the International Piano Festival Series in Ragusa includes music with Italian influences. She will perform Liszt's Sonnets of Petrarch, Busoni's transcription of Bach's Chaconne in d minor, the Three Pieces for Piano composed by Lili Boulanger at the Villa Medici in Rome and Liszt's Canticle of the Sun of St. Francis of Assisi".