The Spotlight is on Teresa Walters
Arts Alive, for North Carolina
November 2007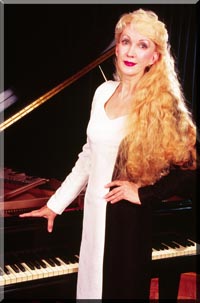 "The Arts Association of Beaufort County is pleased to welcome the award winning pianist Teresa Walters to the stage for a performance on Monday evening, November 5th at 7:30 PM. She is no stranger to the world's greatest concert stages having been featured at New York's Carnegie Hall and Lincoln Center, Wigmore Hall in London, the Salle Cortot in Paris, and the Great Hall of Moscow to mention but a few.
Whether performing for European royalty at Esterhazy Palace or fundraising for children's charities in Delhi, Teresa Walters is recognized as a musical ambassador at home and abroad. The international concert tours of this renowned pianist in recent seasons have included Austria, Hungary, Switzerland, Australia, Russia, Japan and Israel where the Jerusalem Post described her artistry as "Marvelously as close to perfect as I hope to hear." Other outstanding performances in Manila, Hong Kong, Brazil, India and Spain have brought Teresa similar words of praise.
Her recent performance at New York's Lincoln Center was sold out and garnered her a standing ovation from an adoring public. The press wrote: Teresa Walters's performance was quite literally sovereign. At the last, one was simply blown away." Austrian National Television has described her as one of the world's most significant pianists. "She creates magic with the music."