Teresa Walters: A Rare Phenomenon
Famed Pianist to Perform in Silicon Valley
The Monitor, Fremont, CA
October 11, 2007
By Inez Black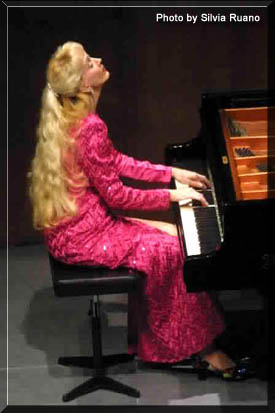 "Teresa Walters is that rare musical phenomenon - a pianist born to the instrument," praises Austrian National Television. This Saturday, Walters takes the stage in Smith Center to thrill audiences with the depth and breadth of her musical skill. An expert in the works of Franz Liszt, Walters is the only American pianist invited to Hungary to perform the Anniversary Concert honoring Liszt's birthday at the Franz Liszt Academy of Music in Budapest.

"Smith Center Presents is a professional artists' series that serves both students and the general public," noted Walt Birkedahl, Dean of Fine and Performing Arts. "Teresa Walters is recognized and acclaimed internationally as a specialist in the music of Franz Liszt - one of the most important romantic period composers for the piano. She is performing a repertoire that I don't believe has been heard in piano recitals in our area."

Teresa Walters has traveled the world's stages, thrilling audiences and critics alike. She has performed in Eastern Europe and Russia both before and after the decline of Communism. In the past year, she has served as Artist in Residence worldwide, performing and teaching Masterclasses recently in Thailand, Taiwan and the city of Lima, Peru. From Brazil to Hong Kong, Teresa Walters's mesmerizing performances have inspired unanimous praise. With her KEYNOTE COMMENTS she shares enlightening information about the music prior to performing various selections. These comments are both insightful and entertaining and are popular with all audience members, from the musical expert to the novice.

Although Walters tours the world performing, she and her minister husband call the Manhattan, New York area home. She earned her doctorate at the Peabody Conservatory of Johns Hopkins University, Baltimore, Maryland, and studied in Europe at the Paris Conservatoire. Walters is a musician to remember for her notable performance, prestige, and talent."