Acclaimed Pianist to Perform
Greenboro, NC
March 26, 2007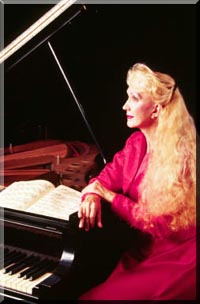 "Greensboro College will welcome world-renowned pianist Teresa Walters in a public performance on March 29. Walters has performed as solo artist and guest recitalist on six continents and all 50 states, garnering rave reviews from critics. Walters has performed at Carnegie Hall and Lincoln Center in New York where she received a standing ovation from a sold-out crowd.

"Her international concerts include performances in London, Paris, Moscow, Hong Kong and Jerusalem as well as in Austria, Hungary, Switzerland, Australia, Japan and Israel. Walters is the first American pianist invited to perform three recitals in Europe to honor the birthday of Franz Liszt, a 19th century Hungarian piano virtuoso. The first two albums in Walters's Abbé Liszt Series have been nominated for the Grand Prix du Disque of the Hungarian Liszt Society.

For Teresa Walters, music is a universal language and a ministry she shares with audiences across the globe."