World-renowned Pianist Performs with Symphony
Bowling Green News
Bowling Green, KY
February 22, 2007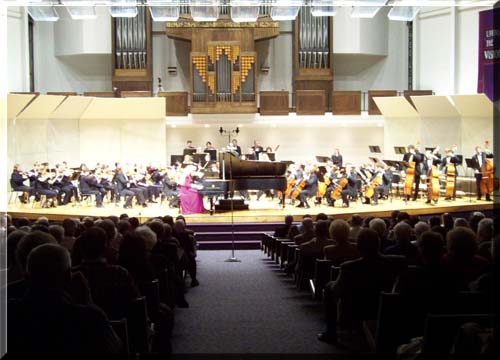 Internationally acclaimed piano virtuoso Teresa Walters performs with the Bowling Green Symphony Orchestra tonight at 7:30 pm in a concert entitled Mid-Winter Fantasy. She will be featured soloist in Schumann's Piano Concerto in a minor. The program opens with Tower's Fanfare for the Uncommon Woman and also includes Mendelssohn's Symphony No. 5 "Reformation".

One of today's most active international concert pianists, Walters has performed with orchestras around the country and throughout the world. In a symphony performance earlier this season, the press wrote: "Teresa Walters' playing proved to me and the audience that she deserves to be in the top tier of piano soloists in the world." Her recent engagements in Russia as orchestral soloist received 5 curtain calls. She has also performed with the Romanian Brasov Philharmonic in celebration of their 125th Anniversary, with Brazil's Serie International De Concertos and with the Bombay Orchestra at India's National Center for the Performing Arts.

A familiar face on the world's greatest concert stages, Teresa Walters has performed in New York's Carnegie Hall and Lincoln Center, Wigmore Hall in London, the Salle Cortot in Paris, and the Great Hall of Moscow. The New York Times writes: "There was much to admire: The crashing octave runs were all right on the mark. Not a note was smudged in the pages of intricate passagework and her conception had all the requisite sweep, power, and warm sonority."

Teresa Walters shared with one reporter that she first performed the Schumann Piano Concerto when she was a child. "I understand its musical significance so much better now," she said. "Robert Schumann's wife Clara Wieck Schumann gave this great concerto its premiere. She was one of the greatest piano virtuosos of the Romantic age. It is always my humble honor to join one of history's finest female pianists in sharing this Concerto with the world."

The mission of the Bowling Green Symphony Orchestra is to advance music literacy through performances and educational programs, to provide a symphony orchestra of the highest quality, and to be a focus for musical excellence."
Return to Symphony Press