New York Pianist Shares More than Music
Southwest Texas LIVE
February 6, 2007
By Bill Sontag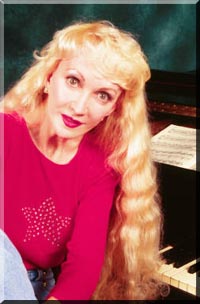 "She hails from the nation's breadbasket - the Midwest - but Teresa Walters lives within eyesight of the former World Trade Center site which is currently a memorial. But regardless of where she calls home, Walters's talent is shared by the entire world.

Thursday, February 8, Walters deplanes from Continental Airlines in Texas, bringing her keyboard creativity and soloist's discipline to Texas performances. From her agent's office in the Big Apple, Walters told LIVE! Last week that she is preparing her Texas repertoire for the Valentine's Day holiday since she learned about the focus of the Council for the Arts Administrator Jennifer Ramage. Hence, the theme of her playlist is love.

"That is brilliant, because all of my selections are about love, including Franz Liszt's Sonnets of Petrarch and Romance", said Walters, clearly warming to the evening's theme. Also on the program is music by Lili Boulanger, an early 20th century French composer and the first woman to win the coveted Prix de Rome. The Prix competition began in 1666 with categories in visual arts but music was added a mere 110 years before Boulanger's distinction.

Gershwin's Rhapsody in Blue is also on Walters's program, "because it represents love of country". Gershwin heard his composition come as a vision during his train ride to Boston. Of the experience, Gershwin is quoted, "I heard it as a sort of musical kaleidescope of America."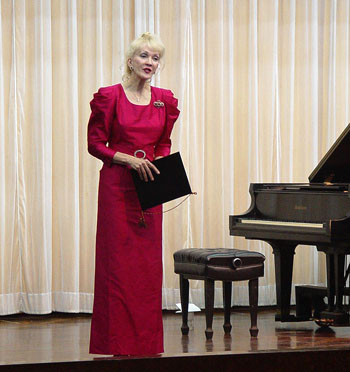 The days may be gone - thankfully - when classical musicians spoke not a word of greeting or explanation to their audiences as though such conversation were unnecessary. Teresa Walters is enthusiastic about meeting her Texas audiences explaining, "I'll be talking to the audiences about the music before playing." She will perform earlier in the day to 500 students selected from the area's San Felipe School District classrooms. The Council for the Arts has arranged this important dimension of her Artist Residency in the area."

Walters ends her performances here with with Franz Liszt's composition based on St. Francis of Assisi's Canticle of the Sun poem that the founder of the Franciscan order wrote as homage to God, urging His praise through earthly and celestial elements. Saint Francis was Liszt's patron saint, and Walters sees the Canticle as a powerful love theme: "It is all about love of God and love for the Earth."

Walters is married to a minister, and travels the globe for her concert performances, sharing a spiritual facet with other cultures. "I have been performing all my life," Walters said. "I am just home from South America, and in March I leave for Asia, to Hong Kong, then Taiwan and Bangkok. "You could say I'm a frequent flyer," Walters quipped.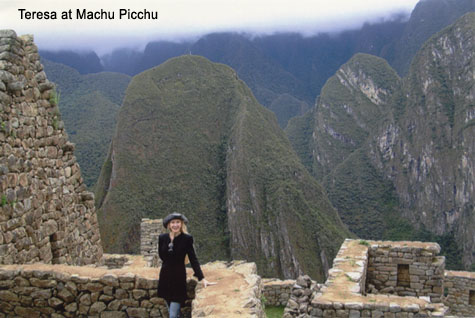 Her performance schedule is demanding, but her South American tour provided an unforgettable break, just before Thanksgiving. After serving as Artist in Residence in Lima, Peru, Walters and her husband boarded a plane to Cusco, then a train to Aguas Calientes. "Then we took a bus to the place where the ancient Incas built Machu Picchu at a remote location high in the Andes where the Spaniards never found it."

Walters holds a Doctorate from the Peabody Conservatory of Johns Hopkins University in Baltimore. She has also studied in Europe at the Paris Conservatoire. Now, she "gives back", offering Master Classes and Artist Residencies in conjunction with her performances at Colleges, Universities, and Music Conservatories worldwide.

But Manhattan is home, and has been for nearly all of Walters's adult life. "I have become a metro New Yorker," she says, despite her youth in the Midwest where she began playing at age four. Though she lives within view of the site of the terrorist attack on the United States on September 11, 2001, Walters was on international tour during the catastrophe. "I was en route to Bombay, India for a symphony performance when we were halted in Paris that day," Walters explained.

Her life experiences have shaped Teresa Walters's philosophy about her skills and artistry. "I believe that we all have talents and gifts from God. It is our destiny to discover how to use them," Walters said.