Pianist to Play Iconic Piece with Regional Symphonies
The Journal - Wichita, KS
By Gary Demuth
September 29, 2006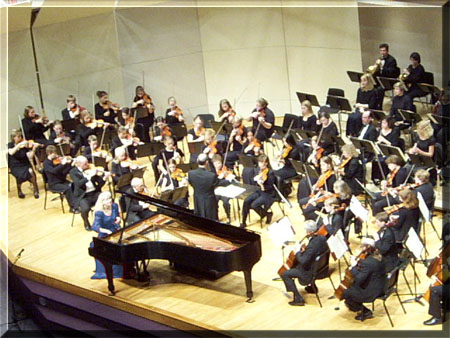 "In the pantheon of American composers, pianist Teresa Walters believes Gershwin is in a class by himself. Each time she sits at the keyboard to play one of Gershwin's most popular compositions, Rhapsody in Blue, she marvels at the complexity and spirituality in his work.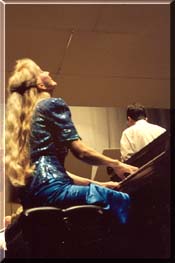 "He doesn't write simple music," said Walters, an internationally acclaimed professional recitalist and orchestra soloist. "There are complex rhythms and jazz influences in all of his work. With Rhapsody in Blue, he tried to paint a picture of America, a musical kaleidoscope of our country."

Ever since Gershwin wrote Rhapsody in Blue in 1924, its energetic blend of urban rhythms, romantic strings and symphonic jazz primarily has been associated with New York City. Walters, who has lived in New York most of her life, added the piece to her repertoire after the terrorists attacks of September 11. She has played it frequently at concerts and recitals around the world.

At least two regional orchestras in the Midwest will present Teresa Walters's rendition of Rhapsody in Blue during opening season concerts. On October 8, Walters will perform with the Symphony at the Stiefel Theatre for the Performing Arts, 151 S. Santa Fe. Then on Sunday, October 22, she will appear in a program entitled "Soundscapes: Once in a Blue Moon", celebrating the 81st Season of the Hastings Symphony Orchestra.

The Steifel Theatre program, a tribute to American composers, will also feature Overture to Candide, by Bernstein, Unanswered Question by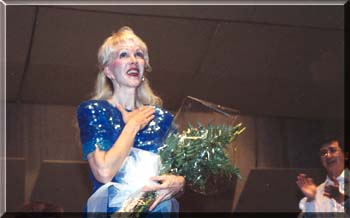 Charles Ives and New England Triptych by William Schuman. The Symphony's executive director said they are thrilled to have a pianist of Walters's skill and reputation performing with the symphony. "It was one of those magical things that came together for us," she said. "Teresa Walters had Gershwin in her repertoire and had the date available."

Walters has performed at New York's Carnegie Hall, London's Wigmore Hall, the Salle Cortot in Paris, the Great Hall in Moscow and concert halls in Madrid, Jerusalem, Vienna, Hungary, Australia, Japan and China. Walters said she has an affinity for the romantic composers and lists Beethoven, Brahms, Chopin and Liszt as among her favorites to perform. She also memorizes each piece of music in her vast repertoire, which she said gives her freedom to concentrate solely on the performance. "My whole world at that moment needs to be the eighty-eight keys in front of me," she said.
Return to Symphony Press