Flickinger Center for Performing Arts Gala Premier Series
Valentine's Day Gala Concert with Teresa Walters
Daily Press, El Paso, TX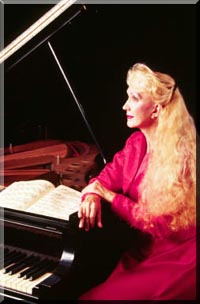 "Imagine elegant tables with a myriad of chocolate delights all lined up for your sampling. Then your ears are treated to the masterful playing of a world-class pianist in great demand around the world for her magnificent performances. That is what the audience will experience on Valentine's Day this year when Flickinger Center for Performing Arts presents internationally renowned pianist Teresa Walters in concert. The Chocolate Buffet begins at 6:30 PM. Then at 7:30, the inimitable Teresa Walters takes the stage. She is widely considered to be one of the world's most uniquely gifted virtuoso pianists. In great demand for both solo recitals and for her performances as guest artist with symphonies, she is a popular favorite who is rapidly becoming one of the most widely traveled concert pianists in history. This concert is made possible in part by New Mexico Arts, a division of the Department of Cultural Affairs and the National Endowment for the Arts."