Strings and Keys
The News Messenger, Marshall, TX
February 23, 2006
By Hillary Meeks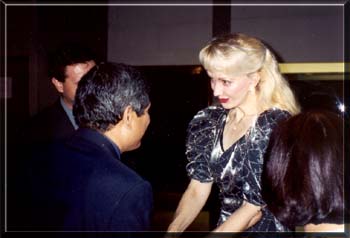 "Pianist Teresa Walters, an internationally renowned musician, will perform at 7 PM Friday at Marshall Civic Center. Texas students who have received top honors in recent Regional Arts Council competitions will have the opportunity to warm up the audience before the famed pianist takes the stage. According to international press reports, this pianist is extremely personable and enjoys speaking to the audience about the music."
"Teresa Walters is in great demand for both solo piano recitals and for her performances as guest artist with orchestras. She is also a popular favorite who is rapidly becoming one of the most widely traveled concert pianists in history. President of the Regional Arts Council Joyce Weekly said that she and others in the organization are pleased to present such a top-notch performer."