Across America
The Mirror
October 7, 2005
By Margaret Moses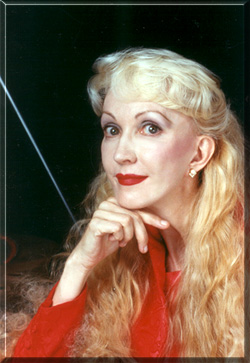 "The audience will be taken on a journey across America during the Symphony Orchestra concert Sunday at the historic Mishler Theatre. Accompanying the audience and the ASO musicians on the "American Parade" journey will be a guest conductor from Seattle and a celebrated pianist from New York.

Teresa Walters will be the featured pianist for Gershwin's Rhapsody in Blue. Walters, who has performed in nearly every state and on six continents, said she enjoys performing the Gershwin piece. "It is so much fun to play," she said in a telephone interview from New York. "In Gershwin's words, it is a 'musical kaleidescope of America.' Unfortunately, the piece has been trivialized in advertisements and promotions. But audiences always love to enjoy it when they hear it in its entirety." Walters says she can feel the energy from an audience, which helps her to perform at her best. "There is a spirit to the music that speaks to me," she said. "During a concert, when we are all experiencing the same music, it is as if a bond is joining the composer to the audience through me." She said before performing, she tries to be rested and warms up carefully so the technical components for her performance will be in place.

ASO executive director observed, "I hope audiences come to enjoy this first concert of our 77th season. We are getting the season off to a wonderful start with a concert featuring a great program and great guest artists."
Return to Symphony Press