Island Center for the Performing Arts Presents Teresa Walters
Virgin Islands Daily News & St. Croix Avis
February 21, 2005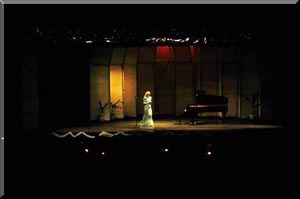 "The Virgin Islands Council for the Arts presents internationally acclaimed pianist Teresa Walters in concert on Sunday, March 6, 2005 in the amphitheatre of the Island Center for the Performing Arts. The 8 pm Candlelight Concert will feature the artist speaking to the audience in her popular Keynote Comments format before performing masterworks by Brahms, Liszt, Rachmaninov and Gerhswin. A social hour with "sips" featuring Cocktails and Hors d'Oeuvres begins at 7 pm.
The beautiful and talented Teresa Walters is widely considered to be one of the world's most uniquely gifted virtuoso pianists. In great demand for both solo recitals and for her performances as guest artist with orchestras, she is rapidly becoming one of the most widely traveled concert pianists in history. In recent seasons, she has performed as recitalist and orchestral soloist on six continents and in most of the 50 United States. Whether performing for European royalty in the opulence of Esterhazy Palace or for children's charities in New Delhi, she is a musical ambassador at home and abroad.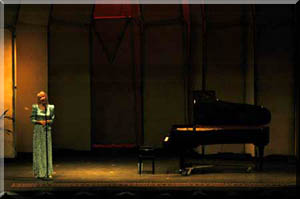 Austrian National Television describes Teresa Walters as "one of the world's most significant pianists." The American Record Guide has announced: "Her competition is virtually nil." Her concerts this season are part of an intense international schedule that includes performances throughout North and South America, Europe and Asia. This season will witness her return to Russia and debuts in Manila, Hong Kong and Mainland China. Her recent performance at Lincoln Center in New York earned a standing ovation from a capacity crowd. New York Concert Review reports: "Her transcendental performance magically transforms the keyboard. She has a huge, rolling sound and makes music like an eagle surveying the landscape." The artist's award-winning recordings will be available at the concert."