Pianist Teresa Walters at Dayton Art Institute
Dayton Arts Calendar - Dayton, OH
January 2005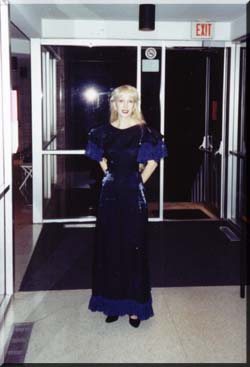 "Vanguard Concerts presents internationally acclaimed concert pianist Teresa Walters at the Dayton Art Institute on January 22 at 8 pm. "A transcendental performance" said the New York Concert Review of this noted interpreter of the works of Franz Liszt. Teresa Walters is widely considered to be one of the world's most uniquely gifted virtuoso pianists. In great demand for both solo recitals and for her performances as guest artist with orchestras, she is rapidly becoming one of the most widely traveled concert pianists in history.
Her mesmerizing performances have inspired unanimous praise: The Cincinnati Enquirer: "Teresa Walters Plays Piano on a Grand Scale". The Washington Post: "Her Hands Create Cascades of Luminescence." Ongako No Tomo, Tokyo: "The audience left with a feeling of ecstasy, so spiritually powerful was her performance."
For a woman who has concertized in the great cities of the world -New York, London, Paris, Moscow, Vienna, Barcelona, Sydney, Jerusalem -Walters says she knows of no concert pianist or professional musician in the family background. Meeting and greeting audiences across the world has not, she says, diminished her regard for those close to the land and anchored in the workaday world. "The people I meet are part of the joy of my music," she says. "Hosts always meet me and look after me until I get back on the next plane." She also finds that music enriches her life at home and abroad. And she is training Winston, her parrot, to shout "Bravo!" as she practices at home on her Steinway concert grand."