"International Piano Festival Concludes with Virtuoso"
Virtuoso Pianist Teresa Walters Includes Round Top on her International Schedule
Lincoln County News Weekly, Maine
"A performance by internationally acclaimed pianist Teresa Walters will conclude the International Piano Festival at Damariscotta's Round Top Center for the Arts on Tuesday, July 27 at 8 p.m. in the historic Darrows Barn. Round Top is proud to welcome Teresa Walters to its 2004 International Piano Festival.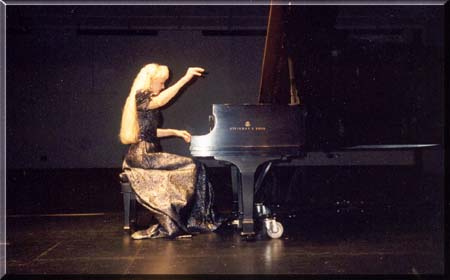 "Widely considered to be one of the world's most uniquely gifted virtuoso pianists, Ms. Walters has kept an intense international schedule this season throughout North and South America, Europe, and Asia. Recent highlights include performances with the Romanian Brasov Philharmonic in celebration of their 125th Anniversary, a South American debut in Sao Paolo, and an invitation to perform with the Bombay Orchestra at India's new National Center for the Performing Arts. Under sponsorship of the Liszt-Kodaly Society of Spain, she was invited to perform the inaugural recital of the International Liszt Cycle Concert Series in Zaragoza.

"Teresa Walters's recent performance at Lincoln Center in New York earned a standing ovation from a capacity crowd. A veteran of the world's greatest concert stages, she has performed in New York's Carnegie Hall, Wigmore Hall in London, the Salle Cortot in Paris, and the Great Hall of Moscow. Her international tours in recent seasons have included Austria, Hungary, Switzerland, Australia, Japan and Israel where the Jerusalem Post described her artistry as "Marvelous! As close to perfect as I hope to hear."