"Teresa Walters: Music That Speaks to the Heart"
Heraldo de Aragon, Zaragoza, Spain
by Mariano Garcia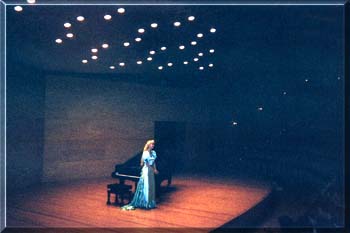 "North American pianist Teresa Walters performs today at the Zaragoza Auditorium sponsored by the Liszt-Kodaly Society in collaboration with Juventudes Musicales. She will perform compositions by Beethoven, Gershwin and Liszt. This will be the first performance by the renowned pianist in Zaragoza.
MG: "Discuss the program that you will perform in Spain."
TW: "The theme is about composers as patriots and as humanitarians, a consistent idea in music history. The music of the great composers belongs to every nation and to the entire world. The program begins with a set of variations by Beethoven on a national song. Next is Gershwin's Rhapsody in Blue. After intermission, I will play Liszt's Fantasy on Hungarian Themes, followed by Liszt's Canticle of the Sun, based upon a poem by St. Francis of Assisi. Liszt actually included the text of this poem in his music. I love this music, because it celebrates those universal ties that bind the entire family of humanity. I believe that music is the universal language. That is why it is always such a privilege for me to share the world's great music."
MG: "You were precocious as a child. When did you discover the piano?"
TW: "I discovered the piano when I was 4 years old. I grew up on a farm in the American Midwest and my parents did not have a piano in our home at that time. But my grandmother had a piano and one day, the family was together and some piece of music came on the radio. I went to the piano and played it back from memory although I had never yet studied piano. My family was very surprised, and they decided that I should begin lessons."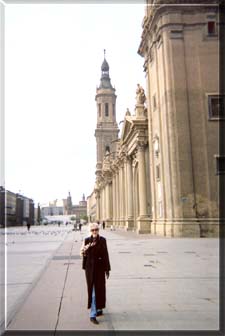 MG: "Most of your repertoire today comes from the Romantic Period."
TW: "Yes. I love the music of the Romantic composers. I love the passion and emotion expressed in Romantic music. It communicates the human condition in such a universal way. It is music that speaks directly to the human heart in every country of the world wherever I perform."
MG: "Why Liszt?"
TW: "Yes, I feel a natural affinity for the music of Liszt. I admire him for the way he continued to develop as a person and as a musician throughout his entire lifetime. Although Liszt's music is some of the most difficult music ever written for piano, it fits the human hand so well because Liszt understood the instrument so perfectly. Also, his music has great variety. In recent years, I have been recording and performing his later sacred works for piano. They are not well known but they are very beautiful and quite profound. Because I am a spiritual person, this music speaks to me and I want to make it better known to the world. I believe that this is a time in the history of the world when Liszt's music has an important message for all people everywhere."