First Lady of Piano: Top Talent Marks Reformation
Capital Journal, Topeka, KS
September 17, 2017
By Phil Anderson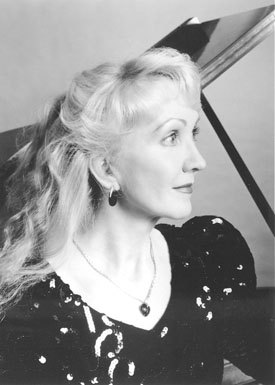 "Teresa Walters, described as "The International First Lady of Piano" by the New York Times, will present 500th Birthday Party: A Musical Celebration of the Reformation at 7 p.m. Sept. 20 at First Lutheran Church, 1234 Fairlawn.
With the 500th Anniversary of the Protestant Reformation little more than a month away, Teresa Walters returns to the capital city for a special piano concert to mark the occasion. Walters said she is "very much looking forward to the concert for several reasons," not the least of which is the fact that she and her husband lived here for one summer during student days.
"Because of the renowned Menninger Clinic, my husband chose Topeka as the location for a summer internship," she explained. "We had a second floor apartment somewhere downtown. "It was extremely hot that summer and when I crossed the street, the asphalt seemed to melt beneath my feet!"
"What I remember best is the lovely campus and the wonderful kindness and hospitality of Washburn University. Understanding that I would need a place to practice, they provided a lovely studio where I practiced every day and spent most of my summer hours."
"I first learned the Liszt Sonata that summer, and that is very significant because it began my musical love affair with the music of Franz Liszt. It was the first step in a lifelong journey that continues to take me around the world performing Liszt's music."
"Sometimes I feel as though I have performed in every country where a grand piano can be found and tuned," she said. "And I have performed in many countries and world capitals multiple times. It would be easier to tell you where I have not yet played." Still on her to-do list, she said, is South Africa, New Zealand and Ireland.
Her concert here is part of an international tour this season that celebrates the Quincentennial of the Reformation. It is titled "500th Birthday Party: A Musical Celebration of the Reformation."
Following her concert here, she travels to Canada and then Europe, including a concert in Rome "just steps from the Vatican."
She described the music as "absolutely magnificent," noting that "all of it honors this major and historical event in some way."
The program will include music by J.S. Bach, considered the biggest name in Protestant music, along with several Lutheran chorales. "Liszt and St. Francis of Assisi are also represented," she said. "I will speak to the audience about the music to make the program more meaningful and inclusive. My hope is to offer something of inspiration to everyone."
She said her program this season is about "giving back" to influences that she has learned to deeply cherish. "I grew up in the Dutch Reformed church," she said, "but Lutheranism has become the dominant faith of my adult life after marrying a 'dyed-in-the-wool' Lutheran."
The Protestant Reformation begun by Martin Luther "changed the world and opened doors to greater religious freedom for people of all faiths," she said. "At this moment in our 21st Century", Walters said, "I consider it a privilege to celebrate 500 years of that spiritual journey by sharing with the world the gifts God gave me."
Walters has lived in the New York City area for most of her adult life, though she said she loves the Midwest and considers it to be "America's heartland." She studied at the Peabody Conservatory in Baltimore for her doctorate and also at the Paris Conservatoire.
"Although we do not have children," she said, "we have two cats who think they are children and are spoiled rotten: Max, a Maine Coon adopted from the animal shelter, and Coco Puff Chanel, an American bobtail." She added: "My husband and I are avid bird and animal lovers and we feed everything that comes to the door or to our yard."