Fall 2015 Performance Highlights
---
Steinway Artist Teresa Walters Performs at Salisbury University
Salisbury, MD – News Leader WBOC-TV/ Fox 21& Delmarva Public Radio WSCL
October 29, 2015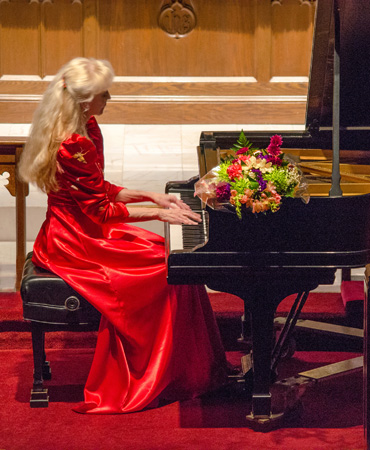 Salisbury University's Patricia Wroten Piano Concert Series presents a distinguished performance by Steinway Artist Teresa Walters at 7 P.M. Thursday, Oct. 29 in Holloway Hall Auditorium. This recital is sponsored by Delmarva Public Radio as part of Cultural Laureate Program Events. Walters's performance features a program which includes famous American composers designed for the University's Made in America theme.
Walters has performed as recitalist and orchestral soloist on 6 continents, including most of the U.S., at venues including New York's Carnegie Hall and Lincoln Center, London's Wigmore Hall, the Salle Cortot in Paris and Moscow's Great Hall. She has received prestigious invitations to perform at the Franz Liszt Academy in Budapest and at Liszt's birthplace in Raiding, Austria and was the first American pianist invited to perform 3 anniversary concerts in honor of Liszt's birthday. Teresa Walters is considered to be one of the finest interpreters of Liszt performing and recording today. Her recordings have received nominations for the Grand Prix du Disque.
---
Steinway Artist Featured in Nashville Artist Residency
Nashville, TN
Now Playing Nashville.com
October 10, 2015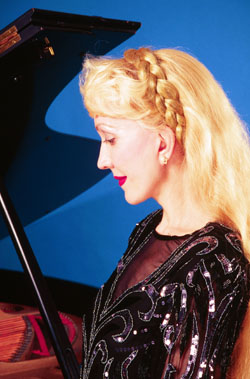 Internationally acclaimed concert pianist and Steinway Artist Teresa Walters arrives in Nashville on October 12 for a week long Artist Residency in Music City. Walters's performances will include solo recitals, Master Classes and a performance with one of Nashville's most prominent college/community orchestras.
On October 13, Walters presents a solo recital at 7 PM in Wakefield Auditorium featuring music by Karel Berman, Robert and Clara Schumann, Franz Liszt, Louis Moreau Gottschalk and George Gershwin. She is featured soloist in Liszt's Hungarian Fantasy with the 65 piece TSO on Thursday, Oct. 15 at 7:30 p.m. On Friday Oct. 16, Dr. Walters will present a Master Class for area music majors. Teresa Walters will perform on a concert Steinway provided by Steinway Piano Gallery in Nashville
Teresa Walters is recognized worldwide as a concert pianist overwhelmingly popular with audiences. The virtuoso will converse with the audience in her engaging manner before she performs. Her stellar performances have inspired the world's music critics. In 2014, The New York Times announced: "Teresa Walters is aptly nicknamed 'The International First Lady of Piano'." She is described by Austrian National Television as "that rare musical phenomenon" and "one of the world's most significant pianists."
---
Acclaimed Pianist at University of Wisconsin
The Daily Northwestern
September 29, 2015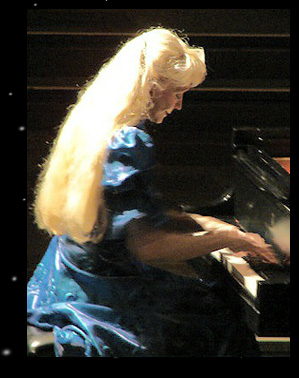 Internationally acclaimed pianist Teresa Walters performs at the University of Wisconsin's Music Hall on Wednesday evening, Sept. 30 at 7:30 p.m. Her performance is sponsored by the Chamber Arts Series and presented by the university's Students for Music organization.
Dr. Walters will showcase selections from her virtuosic repertoire. Her mesmerizing performances have graced the world's greatest concert stages. She has performed at New York's Carnegie Hall and Lincoln Center, Wigmore Hall in London, the Salle Cortot in Paris, and the Great Hall of Moscow.
Other recent highlights include brilliant debuts in Manila and Hong Kong, performances with the Romanian Brasov Philharmonic in celebration of their 125th Anniversary, a South American debut in Sao Paolo sponsored by Brazil's Serie International de Concertos in honor of International Women's Day, and an invitation to perform with the Bombay Orchestra at India's National Center for the Performing Arts. Under sponsorship of the Liszt-Kodaly Society of Spain, she performed the inaugural recital of the International Liszt Cycle in Zaragoza."
Her program at the University of Wisconsin will feature her Keynote Comments – a format in which she speaks to the audience in her engaging manner about the music on her program.
---
An Evening with Teresa Walters
Albany, NY Capital Region
The Recorder News
September 22, 2015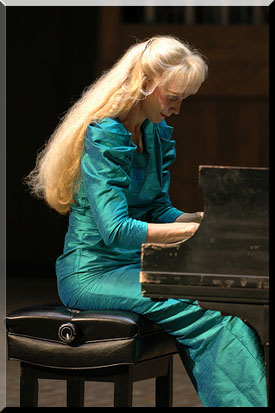 Internationally acclaimed concert pianist Teresa Walters performs in the capitol region for the Friends of the Library organization on Thursday evening, September 24 at 7 p.m. Her program includes music by Karel Berman, Liszt, Schumann, Gershwin, Gottschalk and others. A champagne reception will follow.
Walters performs around the world and was recently nicknamed "The International First Lady of Piano" (The New York Times). Her playing inspires high praise from the national and international press. The New York Times writes: "There was much to admire: A musician ready, willing, and able, Teresa Walters tackled a program of large-scaled, big-boned pieces, and she sailed through them with an easy fluency that made each one sound like child's play."
New York Concert Review reports: "Her transcendental performance magically transforms the keyboard. She has a huge, rolling sound and makes music like an eagle surveying the landscape."
Among her recent prestigious invitations include performances in honor of the Franz Liszt Bicentennial sponsored by Copenhagen's Hungarian Embassy and Beijing's Forbidden City Concert Hall. Her international tours in recent seasons include Austria, Hungary, Switzerland, Australia, Russia, Japan and Israel where the Jerusalem Post described her artistry as "Marvelous - As close to perfect as I hope to hear."