Top Picks of Things To Do This Weekend:
An Evening with Teresa Walters
Northern New Jersey - The Record
March 18, 2015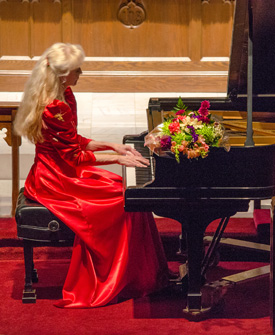 Teresa Walters, hailed as "The International First Lady of Piano", will perform at 7:00 p.m. Saturday, March 23 at St. Johns Lutheran Church. The program will feature her immensely popular "Keynote Comments" and will include rare piano works as well as selections from well-loved masterworks.
Describing her popular Musical Cameos Series in 2014, The New York Times announced: "Teresa Walters has performed on six continents and has earned the highest praise, deserving to be in the top tier of piano soloists in the world. Aptly nicknamed 'The International First Lady of Piano' and overwhelmingly popular with audiences, this virtuoso discusses the music in her engaging manner before she performs."
Walters has performed at Carnegie Hall and Lincoln Center in New York and internationally at important concert venues in London, Paris, Moscow, Brussels, Geneva, Barcelona, Madrid, Jerusalem and Beijing. Recent tours have included concerts in Australia, Japan, Brazil and the Philippines. She has also performed at the Beethoven Festival in Vienna.
As a major interpreter and award-winning recording artist of Franz Liszt's works, Walters was invited to present three anniversary concerts in honor of Liszt's birthday in Hungary.