Hampton Arts Presents Teresa Walters
Daily Press
Hampton, VA
Sunday, Sept. 21, 2014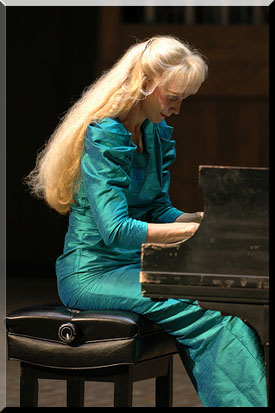 Don't miss the opportunity to hear International First Lady of Piano Teresa Walters in performance at The American Theatre this weekend. Her Tokyo performance inspired Japan's leading music critic to report: "The audience left with a feeling of ecstasy, so spiritually powerful was her performance." Ms. Walters is described by Austrian National Television as "that rare musical phenomenon" and "one of the world's most significant pianists." Her prestigious invitations to perform in honor of the recent Liszt Bicentennial included Copenhagen's Hungarian Embassy and Beijing's Forbidden City Concert Hall.
In recent years, she has performed as recitalist and orchestral soloist on six continents and in most of the 50 United States at venues including Carnegie Hall and Lincoln Center in New York, Wigmore Hall in London, the Salle Cortot in Paris, Moscow's Great hall, Australia's International Conservatorium and Jerusalem's Concert Hall. With her vast repertoire, she has also performed at Vienna's Beethoven Festival and at Spanish Music festivals in Barcelona and Madrid. Her recent Lincoln Center recital in New York earned a standing ovation from a capacity crowd. She is the first American pianist invited by Hungary to present the Anniversary Concert in honor of Liszt's birthday. And she performed at the Franz Liszt Academy of Music and the Liszt Museum in Budapest as well as at Liszt's Birthplace in Raiding, and at Esterhazy Palace under the patronage of Prince Anton Esterhazy, attesting to her growing reputation as one of the finest interpreters of Liszt performing and recording today.
Other big name performers scheduled for the series include Judy Collins, Arlo Guthrie, and Peter Yarrow of Peter, Paul and Mary.