An Evening with Teresa Walters
Herald News
Bucks County, PA
October 23, 2014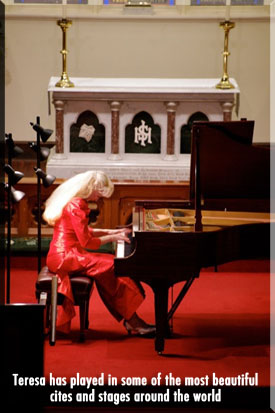 Teresa Walters, hailed as "The International First Lady of Piano", will perform at 7:30 p.m. Saturday, Oct. 25, at St. Andrew's Church in Lambertville. Walters's program will include works by Beethoven, Chopin, Robert and Clara Schumann, and Liszt. She will play a Steinway piano selected by Jacobs Music Company.
Walters has performed at Carnegie Hall and Lincoln Center in New York and internationally at important concert venues in London, Paris, Moscow, Brussels, Geneva, Barcelona, Madrid, Jerusalem and Beijing. Recent tours have included concerts in Australia, Japan, Brazil and the Philippines. She has also performed at the Beethoven Festival in Vienna.
As a major interpreter of Franz Liszt's works, Walters was invited to present three anniversary concerts in honor of Liszt's birthday in Hungary.
She is described as "one of the world's most significant pianists" by Austrian National Television, and the Washington Post announced: "A splendid musician, she creates music of orchestral grandeur." Walters records for Archangelus records.