Teresa Walters Performs for Artist Concert Series
Cleveland, OH
March 6, 2014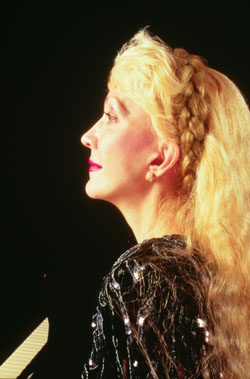 Internationally acclaimed concert pianist Teresa Walters performs on Sunday, March 6 for the Artist Concert Series at Rocky River Presbyterian Church at 3 PM. Her program, "Moonlight and Romance: Cameos of Great Composers and Well-Loved Melodies", features music by Beethoven, Chopin, Schumann, Liszt and Gershwin.
Walters is widely considered to be one of the world's most significant pianists. The international press has written that Ms. Walters "creates magic with the music" of her classical repertoire with "astonishing playing and visionary stage presence."
Walters's mesmerizing performances on international concert stages inspire unanimous praise. Recognized as "The International First Lady of Piano", her prestigious invitations to perform in honor of the recent Liszt Bicentennial included Copenhagen's Hungarian Embassy and Beijing's Forbidden City Concert Hall.
Teresa Walters is noted for her commitment to music as the ultimate universal language, and for her vision of music as ministry. She will speak about the music before she performs in her Keynote Comments format. In addition to maintaining an extensive international touring schedule, she is recording a series of releases for Archangelus Records featuring the sacred piano works of Liszt. Her award-winning recordings will be available at the concert.