Walters Brings Vast Experience, Repertoire
Unified Newspaper Group
March 20, 2014
By Bill Livick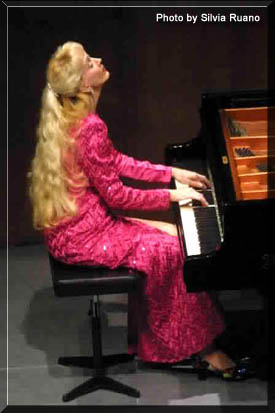 "Renowned pianist Teresa Walters has performed in the world's great concert halls. She earned her Doctorate from the Peabody Conservatory and was awarded an international fellowship for a year of study abroad at the Paris Conservatoire. She and her husband live in the New York City area.
In recent years, Walters has performed as a recitalist and orchestral soloist on six continents and in most of the 50 United States at venues including Carnegie Hall and The Lincoln Center in New York.
Walters will appear Saturday in the Madison, WI area for Verona Area Performing Arts Series, performing material from a vast repertoire of classical music.
Lovers of classical music for piano will have an opportunity to witness for themselves why Austrian National Television described Walters as "that rare musical phenomenon" and "one of the world's most significant pianists."
Although she was on tour in Europe last month, Walters took a few moments via email to answer some questions:
VP: Where did you grow up and how did your interest in music get started?
Walters: I grew up on a farm in the American Midwest. I don't remember a time when I did not play the piano. My parents tell me that I began my love affair with the piano at eth age of 4. We did not have a piano at the time, but my grandparents did. One day when the adults had gathered around the kitchen table, a piece of music came on the TV and I went to the piano in the living room and played it. The adults looked at each other in great surprise and said, "We didn't know that she could play!" Subsequently, my parents arranged for me to begin piano lessons.
VP: Was there a particular point in time when you knew that you wanted to become a concert pianist?
Walters: I don't remember considering any other options. I can honestly say that I never really wanted to become anything else. Music quickly became centrifugal to my life. Playing the piano has always seemed like an extension of myself and a way for me to communicate with the world without using words. I have always loved the piano and all of its expressive capabilities.
VP: Was there a time when you felt you had "made it"? If so, can you talk about reaching this point, i.e., how long did it take and were there key steps or events along the way that stand out in your mind?
Walters: Interesting question, but not so easy to answer. I have obviously set and reached some of the goals that I dreamed about as a child and as a student. I'm very grateful for a plethora of events along the way that stand out in my mind. However, because this is a field in which perfection is never fully possible as a human being, there are always new heights to climb and new horizons to challenge. Some of the professionals whom I most admire in this field of classical music (composers, conductors, pianists) have lived into their 90's and continued to grow and develop their art for an entire lifetime. I am inspired by their example to keep growing, to keep improving, to keep finding new ways to share and to serve the music that I love.
VP: How much of your time is dedicated to touring and performing in an average year?
Walters: These days, most of my average year is dedicated to touring and to performing. I try to take off the months of July and August to learn new music for the coming season. Once September comes, it is not unusual for me to play two or three times a week throughout the season.
VP: Are there highlights in your career that are especially significant and important, events that truly stand out for you?
Walters: Well, obviously concerts at New York's Lincoln Center and Carnegie Hall come to mind, as well as performances in Europe, Russia, Tokyo, Copenhagen, Beijing, Hungary, South American and elsewhere internationally. But I also cherish the memories of performing in some smaller venues that are lesser known. I have learned that at it is not the prestige of the hall itself that is significant but rather the magic that can happen with any audience at any time and in any place.
VP: What do you enjoy most about performing?
Walters: I not only enjoy performing, I actually love the countless hours of practice! I love the feeling of having an orchestra at my fingertips. I love knowing that the music of the great composers is an international language and a timeless legacy shared by the whole world. I genuinely love to travel and consider it a privilege to share this music around the country and throughout the world. As a child, I loved to read and study the map of the world. Now I have the great blessing of seeing those places while sharing what I most love to do. I also have the joy of meeting many wonderful people of all nationalities and backgrounds.