Pianist Graces the Stage and the Keys
Edmonton, Alberta CANADA
The Examiner,
Friday, May 9, 2014
By Karen Haynes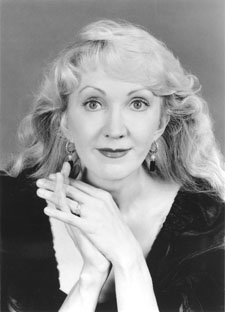 Concert pianist Teresa Walters is scheduled to whisk her audience away on May 9 at the Horizon Stage. In anticipation of her performance, Cameos of great Composers and Well Loved Melodies, Walters told the Reporter/Examiner about her music, personality and upcoming show.
Can you remember the first time you ever played the piano?
Actually, I cannot remember a time when I did not play the piano. My parents tell me that I was four years old when I began to play. We did not have a piano at our home at that time, but there was a piano at my grandmother's house. One day when the adults were playing a game at the kitchen table, some piece of music came on the television. I apparently went to the piano in the living room and played the piece that I had just heard. My parents immediately arranged for me to begin lessons and my musical journey began.
Did you ever second-guess pursuing this type of work, and why?
A career in music has been the only life that I have ever wanted and I simply cannot imagine doing anything else with my life. I truly feel that I have been born for this and I feel very blessed that doors have opened for me to share this legacy of music from the world's great composers.
In all the work and traveling you've done, what have been your top two highlights?
When I try to focus on only two highlights, a collage of multiple events keeps filling my mind and my memory. Certainly concerts at New York's Lincoln Center and Carnegie Hall come to mind, as well as performances in Europe, Russia, Tokyo, Hungary and then very recently in Copenhagen, Denmark and in Beijing. But I also cherish the memory of some smaller venues in more remote places. Sometimes there is a memorable piano in an unexpected place, sometimes there is a hall with especially great acoustics and sometimes there is an audience that is especially attentive and responsive. The magic that can occur anywhere does not depend upon a big name hall or location.
What is something you'd like to still accomplish?
I would like to learn at least two more languages to supplement the languages that I already speak. I would like to learn to swim. I would like to teach an adult to read. To make my life easier, I sometimes dream of getting a pilot license. Throughout my life, I want to keep growing as an artist. I would like to learn as much music as possible and share it with as many audiences as possible, especially in countries where I have not yet had the opportunity to perform. I would also like to perform in all of the Canadian provinces.
Do you compose?
I do compose, but not piano music in recent years. Instead, I am working to bring greater exposure to the music of great female composers such as Lili Boulanger, Clara Schumann and others.
You believe music is a "universal language." Can you explain what that means to you?
It means that I have come to realize that great music touches the deepest and most profound part of the human spirit. The music of the great composers is an incomparable gift that belongs to the entire world and to people of every generation, vocation and culture. I can perform in countries where I do not speak the language, and yet, when the music begins, everyone experiences it together as sound that needs no words. For me, that is the quintessence of music – a language that communicates the vast gamut of emotions that comprise the universal human condition.
How do you balance your work and home life?
That is an ongoing challenge for me. I am truly blessed to have a husband who understands my need to make music for audiences around the world. He tolerates my travel schedule while I am away and my practice schedule when I am at home. He understands that I view this as a calling and he loves me enough to respect the commitment that I feel to do it well. My cats Max and Coco are less tolerant and understanding when they see my luggage leave the house. They expect a new toy every time I return home!
I imagine this work has had challenging moments. What is something you've learned along the way?
Well, what I've learned along the way would fill several tomes and I'm still learning! I've learned to accept the fact that almost every piano onstage will have its strengths and its weaknesses. I've learned that almost every audience will include both sophisticated listeners and those who are attending a classical piano recital for the first time. I have learned to try to be as rested as possible before walking onstage and I have learned how to rest, even on an airplane. I've learned to pack my concert gowns in my carry on luggage. Once in Italy, my gowns were in checked baggage, which got lost and I had to play a concert in my jeans and cowboy boots!
Please describe the performance that you will be bringing to Canada.
This season's program is very close to my heart because it includes music that I learned to love as a child. The theme is Cameos of Great Composers and Well Loved Melodies and all of the music is based upon love in its various forms from the romantic to the agape. I will speak to the audience in my Keynote Comments before I perform each piece. In this format, I try to share something meaningful about the composer, or the piece, or the circumstances under which it was written. There is music by Beethoven (his Moonlight Sonata), a famous etude by Chopin, and Romances by Robert and Clara Schumann. There is an American Spiritual and music by Franz Liszt and Gershwin's famous Rhapsody in Blue. There is something for everyone to enjoy, from the musically experienced to those hearing this music for the first time.