SYMPHONY REVIEW:
Teresa Walters Cast a Spell from the Start
Okanagan Concert Society
British Columbia, CANADA
October 3, 2013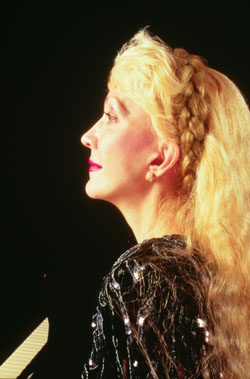 "Internationally acclaimed pianist Teresa Walters from New York performed the opening concert of the season last week. Looking very much like a movie star in her floor-length crystal-embroidered black gown with her long platinum hair and model figure she cast a spell from the start.
Frederic Chopin, the poet of the piano, captured the love for his homeland Poland in the yearning theme that Walters played with controlled tempos, bold chords and delicate treble passages. It sounded effortless in spite of the technical challenges.
After the Intermission Walters entered in a sequined blue dress with matching sparkling shoes. The cascading arpeggios of Franz Liszt combined with the glitter of the sequins were spectacular. George Gershwin's Rhapsody in Blue, a musical kaleidoscope of America, ended the program. It was a medley of playful, optimistic jazz themes with syncopated rhythms and blues tonalities.
Much enthusiastic applause convinced Walters to play an encore. It was a suitable ending for a very enjoyable concert by a talented and gracious pianist."