Community Concerts Open with World-Renowned Pianist
Penticton Western News
British Columbia, CANADA
September 25, 2013
By Kristi Patton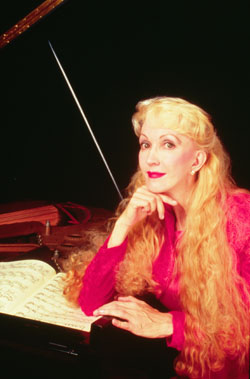 "Pianist Teresa Walters, a familiar face on the world's greatest concert stages, performs in Penticton Wednesday night. Growing up in the American Midwest, Walters came upon her musical prowess in a surprising fashion: "I was a complete surprise. We didn't even have a piano. My grandmother had one with missing keys and chips and such. The family had gathered around the kitchen table one day and I was only 4 years old. Something came on the television and suddenly I went to the piano and played it," said Walters. "All of the adults stopped what they were doing and looked at each other saying, 'we didn't know that she could play!' They immediately arranged for lessons for me and I am grateful."
Walters is considered by many to be one of the top tier piano soloists in the world. She has performed as recitalist and orchestral soloist on six continents and in most of the U.S. venues including Carnegie Hall and Lincoln Center in New York, Wigmore Hall in London, the Salle Cortot in Paris, Moscow's Great Hall and many more. She will next grace the stage at the Community Theatre as part of the Penticton Community Concert Series.
Asked how she approaches each stage, Walters said, "The 88 keys are the same, the music is the same, the compositions are the same and the calling I feel to do this is the same. Even when I am in a country where I don't speak the language, such as recently in China and Russia, when the opening bars of the music are heard, everyone understands. That is what I love most about what I do. It supercedes any cultural barriers and is a heritage that we all share as world citizens."
Walters is a musical ambassador who engages the audience with her uniquely branded Keynote Comments. The inspiration came to her while performing on college and university campuses. Walters shares information about the music before performing various selections. Her comments are insightful and often entertaining.
The Community Concert Society brings first-class live entertainment to the area. For the first time in its 60 year history, they are selling single tickets to their first show this season with Teresa Walters."