International First Lady of Piano in Greater Hartford
Record Journal
September 20, 2012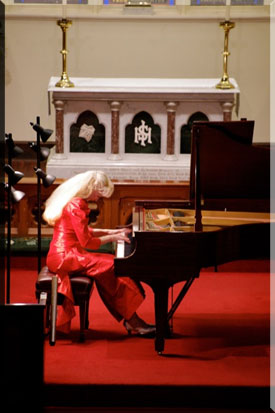 "Internationally acclaimed concert pianist Teresa Walters performs on Friday, October 5 at Meriden's Immanuel Church at 7 p.m. The virtuoso pianist is hailed as one of the world's finest interpreters of the music of Franz Liszt. Her prestigious invitations to perform at the Franz Liszt Academy of Music in Budapest as well as at Liszt's Birthplace in Raiding and at Esterhazy Palace under the patronage of Prince Anton Esterhazy attest to her glowing reputation.

Her program in the Greater Hartford area is titled Cameos of Great Composers. It features music by Liszt, Schubert, Brahms, Beethoven, Moussorgsky and Gershwin. Walters is a mesmerizing pianist known for her gifts of engaging any audience. She is equally at home in the world's major concert halls or in campus, community, or church settings where her Keynote Comments about the music she is performing are extremely popular with audiences.

In addition to maintaining an extensive international touring schedule, she is recording a series of releases that have been nominated for the Grand Prix du Disque. A Meet and Greet Reception will follow at which Walters's award-winning recordings will be available."