Roanoke Performing Arts Series Presents Acclaimed Pianist Teresa Walters
The Music Place
September 2011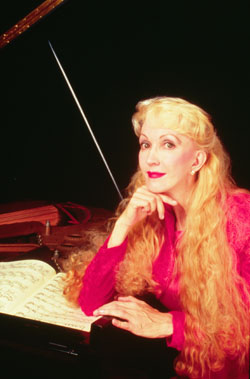 "Internationally acclaimed pianist Teresa Walters will perform an all Liszt program in honor of his Bicentennial at Roanoke College's Olin Theater at 7:30 PM on Friday, September 23. The College will also feature Walters in a Master Class with area students on Saturday at 11 AM.

Teresa Walters's mesmerizing performances on today's international concert stages inspire unanimous praise. Hailed as "The International First Lady of Piano", she is described by Austrian National Television as "that rare musical phenomenon" and "one of the world's most significant pianists." Her biography could be written from headlines alone: "Teresa Walters Plays Piano on Grand Scale" (The Cincinnati Inquirer); "Her Hands Create Cascades of Luminescence" (The Washington Post); "A Liszt of Very Fine Performances" (The Budapest Sun); "Concert Extraordinare" (Bucharest Stagiunea); "Bright Shining Star in Recital" (El Norte, Mexico); "Teresa Walters Holds Keys to Audience's Hearts" (The Record)."