Teresa Walters Concert Saturday
Omaha World Herald
September 30, 2011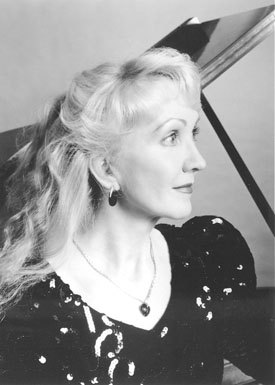 "Pianist Teresa Walters will perform a concert at the Wilson Performing Arts Center this Saturday at 7:30 PM. Teresa Walters is a critically acclaimed pianist who has performed all over the United States and around the world. The concert will honor the 200th birthday of composer-pianist Franz Liszt.

She has received rave reviews from The New York Times, The London Times, The Jerusalem Post and The Washington Post. Walters has performed at Carnegie Hall and Lincoln Center in New York at Wigmore Hall in London, the Salle Cortot in Paris, Moscow's Great Hall, Australia's International Conservatorium and Jerusalem's Concert Hall. Walters has performed at the Beethoven Festival in Vienna and at Spanish Music Festivals in Madrid and Barcelona.

Teresa Walters is the only American pianist invited by Hungary to present the Anniversary Concert in honor of Liszt's birthday. She has performed at the Liszt Academy of Music and the Liszt Museum in Budapest as well as at his birthplace in Raiding.

Walters will hold a Master Class on Sunday at 1 PM for piano students of all ages. The Master Class event is sponsored by the Jetton Charitable Fund through the Omaha Community Foundation."