2011-2012 Musicians: Teresa Walters, Piano (USA)
Guide to Coast Arts Events
Newport, OR
November 13, 2011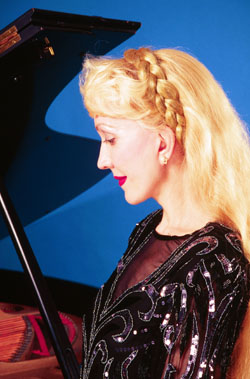 "Neskowin Chamber Music presents world-renowned concert pianist Teresa Walters in recital on November 13 at 3 PM. Hailed as The International First Lady of Piano, Teresa Walters is described by Austrian National Television as "that rare musical phenomenon" and "one of the world's most significant pianists." She is noted for her commitment to music as the ultimate universal language and for her vision of music as ministry. Thus, she speaks and performs on campuses and in communities as well as on the concert stages of the world. Walters enjoys talking about the composers and the music before she sits down to play.

The Washington Post announced: "Teresa Walters is a splendid musician whose marvelous technical prowess and rich expressive resources create music of intimate introspection, orchestral grandeur and the most minute inflections of color."

Walters earned her Doctorate from Peabody Conservatory and was awarded an International Fellowship for a year of study at the Paris Conservatoire. She will make a classroom visit on Monday to share portions of her program and to speak to area students about her career."