School of Music & Fine Arts Presents Teresa Walters
Palm Beach Post
West Palm Beach, FL
October 18, 2010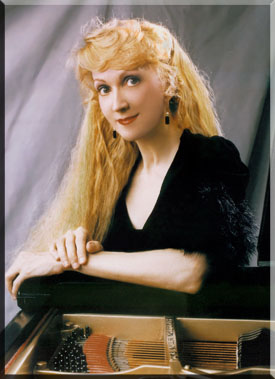 "The Claude Rhea Family Recital Series in co-sponsorship with the Office of International & Multicultural Programs present internationally acclaimed piano virtuoso Teresa Walters tonight in Persson Recital Hall, West Palm Beach at 7:30 PM. Titled "Franz Liszt – Music of Life and Love," the concert will include both rare and beloved piano music of Liszt to celebrate the Bicentennial of the composer's birth.

"Walters's repertoire will include Liszt's Romance, Sonnets, Jeux d'eaux al la Villa d'Este and Canticle of the Sun. During the concert, Walters will share enlightening information about the music and the composer in her popular Keynote Comments© format."

"A familiar face on the world's greatest concert stages, Teresa Walters is becoming known worldwide as "The International First Lady of Piano." She is a renowned Liszt specialist, who under sponsorship of the Liszt-Kodaly Society of Spain, recently performed the inaugural recital of the International Liszt Cycle in Zaragoza."

"Palm Beach Atlantic University is home to The Palm Beach Atlantic International Piano Festival, held earlier this year under the direction of Philippe Entremont, President."