Christ Church Presents An Evening with Teresa Walters,
First Lady of Piano
Star Democrat
Easton, MD
November 2, 2010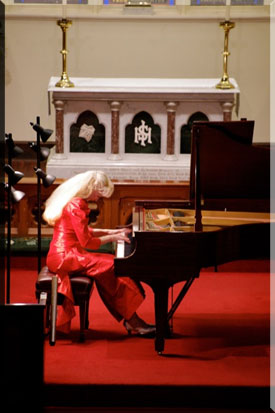 "Christ Church Easton is honored to offer a rare musical opportunity for the Easton community as we welcome Teresa Walters, world-renowned pianist, for a concert on Sunday, November 7 at 4:00 pm. Hailed by Austrian National Television as "one of the world's most significant pianists," Teresa Walters is a pianist like no other. She has performed on six continents and in most of the 50 United States, taking sold out crowds to places that Fanfare Magazine describes as "where words can never reach."

"Whether performing for European royalty in Esterhazy Palace or fundraising for children's charities in Delhi, Teresa Walters is a musical ambassador at home and abroad. A familiar face on the world's greatest concert stages, she has performed at Carnegie Hall, Wigmore Hall in London, the Salle Cortot in Paris, and the great Hall of Moscow. Her international tours take her around the globe and have included Austria, Hungary, Switzerland, Spain, France, Australia, Russia, India, Japan, China, Israel, and Brazil. Other highlights include brilliant debuts in Manila and Hong Kong, performances with the Romania Brasov Philharmonic, a South American debut in Sao Paolo, and the inaugural recital of the International Liszt Cycle for the Liszt-Kodaly Society of Spain.

"Teresa Walters is the first American pianist invited by Hungary to perform three prestigious European recitals honoring the anniversary of Liszt's birthday. In addition to recitals at the Liszt Academy of Music and Memorial Museum in Budapest, she performed at the Esterhazy Palace under patronage of Prince Anton Esterhazy. Her recital at Liszt's birthplace was televised, and her recordings have received nominations for the Grand Prix du Disque. The Budapest Sun writes, "Her fingers give off sparks and she takes the keyboard into orbit."